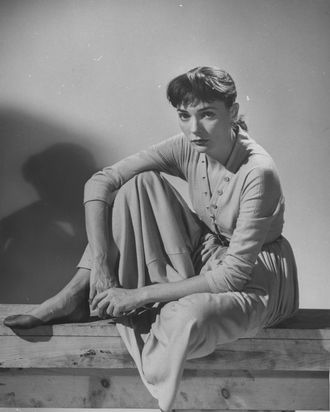 Doe Avedon, photographed by Bob Landry in 1948.
Photo: Bob Landry/Time Life Pictures/Getty Images
Although Doe Avedon was married to photographer Richard Avedon for only five years, their partnership — which jump-started her career as a model and actress — defined her glamorous identity in the public eye. Born in 1925 with the unfortunate name Dorcas Nowell, she was the daughter of a butler and became an orphan at age 12. She held a modest job at a bank before she was discovered by Richard in the forties. There are various tales of their first meeting, but everyone agrees that Richard, purely by chance, walked into the bank where she worked and was immediately taken with her. He convinced her to change her name to Doe (because of her large, wide-set eyes) before they married in 1944. He photographed her extensively and brought her to stylish parties, where she caught the attention of other famous photographers, like Karl Bissinger. She also served as the inspiration for screenwriter Leonard Gershe's film Funny Face, starring Audrey Hepburn. 
Doe divorced Richard to marry actor Dan Mathews in 1949. Richard told ABC News in 1993, "I would have crawled to the Bronx on my knees to bring Doe back." After Mathews died in a car crash in the early fifties, Doe married film director Don Siegel; they divorced in the mid-seventies. Her career spanned television, Broadway, and film; she had starring roles in The High and the Mighty (1954), Deep in My Heart (1954), and John Cassavetes's Love Streams (1984).
Doe is survived by four children from her marriage to Siegel as well as seven grandchildren, five great-grandchildren, and her longtime partner, Michael Liscio. She died of pneumonia on Sunday in L.A.; she was 86.