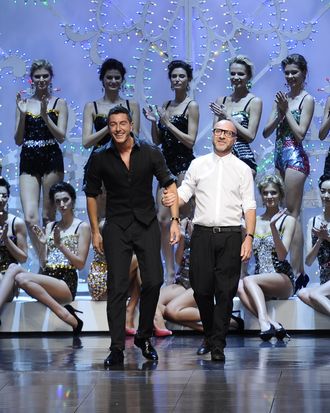 Dolce & Gabbana.
Photo: FILIPPO MONTEFORTE/AFP
The Italian supreme court has resurrected tax evasion charges brought against Dolce & Gabbana years ago that were then dismissed by a lower court. In a lengthy interview, WWD pauses from asking them just how they manage being so great to prod about the case. 

WWD: Fast-forward to today: You are designers whose success has been achieved through hard work over the years. What was your reaction to Italy's Supreme Court overturning the ruling earlier this year that absolved you of alleged tax evasion?
D.D.: Our response is simple: We work. 
S.G.: Our conscience is clear. The decision is in God's hands. 
D.D.: Silence and work, polemics don't lead anywhere. 

WWD: [to Gabbana, who vented his frustration on his Twitter account after the new ruling, as a number of followers urged the designers to pay all their taxes] After so much silence, your comments on your Twitter were met with angry reactions, too.
S.G.: I'm only human, I was fed up. I was not angry, but I was disappointed. What a shame, I felt …

WWD: Do you feel the ruling was unjust?
S.G.: We pretend it doesn't exist. It's not in our thoughts on a daily basis. After two hours it was all gone. Luckily I am not resentful. 
D.D.: Tomorrow is another day. We enjoy doing this job with love and we've never allowed anyone to interfere with our creativity. 
S.G.: Did you see any changes? We've actually improved.
D.D.: I get jealous if an assistant touches our clothes. We never did this for money…please write it down. But don't touch our job or our clothes. This is all that matters.
Justin Bieber and Beyoncé, however, can presumably do all the Dolce & Gabbana clothes-touching they want.