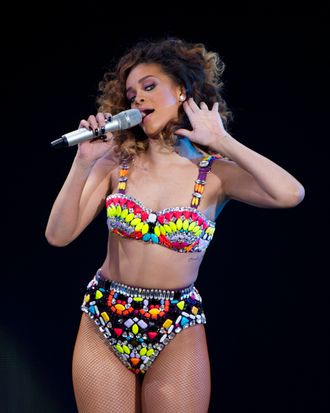 Rihanna in concert.
Photo: Carlos Alvarez/2011 Getty Images
The latest issue of Dutch fashion magazine Jackie includes a feature on how to copy Rihanna's style, which quite rightly offended droves of people. The text accompanying Rihanna-inspired merchandise in the magazine translates to, according to ONTD:
She has street cred, she has a ghetto ass and she has a golden throat. Rihanna, the good girl gone bad, is the ultimate n***abitch and she displays that gladly — for her that means what's on can come off. If that means she'll be on stage half naked, then so be it. But Dutch winters aren't like Jamaican [ed. note: Rihanna is actually Barbadian, not Jamaican] ones, so pick a clothing style in which your daughter can resist minus ten [temperatures]. No to the big sunglasses and the pornheels, and yes to the tiger print, pink 'shizzle,' and everything that glitters. Now let's hope she won't beat anybody up at daycare.
A scan of the article and its translation quickly went viral on Reddit. A few hours ago, Jackie editor Eva Hoeke posted an apology on the magazine's Facebook page, saying the piece's author, "meant no harm — the title of the article was intended as a joke — it was a bad joke, to say the least." She added that, of course, the text should have never run, and apologized:
Furthermore I hope that you all believe there was absolutely no racist motive behind the choice of words. It was stupid, it was naive to think that this was an acceptable form of slang — you hear it all the time on tv and radio, then your idea of what is normal apparently shifts — but it was especially misguided: there was no malice behind it. We make our magazine with love, energy and enthusiasm, and it can sometimes happen that someone is out of line. And then you can only do one thing: apologize. And hope that others wish to accept it. From the bottom of my heart I say it again: we never intended to offend anyone. And I mean that.
Based upon a loosely translated sampling of replies to Hoeke's post, some Jackie fans seem happy with the response, and agree that editorial mistakes, even in this vein, sometimes happen. But many other readers are not accepting that apology just yet, which, considering the swath of racially charged stereotypes in the article, is understandable.  Copy with that kind of language would never pass in mainstream fashion magazines in this country, and remains blatantly off-color in the traditionally less politically correct European magazine industry.
Meanwhile, as if that fiasco weren't enough for Rihanna to deal with today, she Tweeted about being the victim of some racial abuse while at a hotel in Lisbon, Portugal.