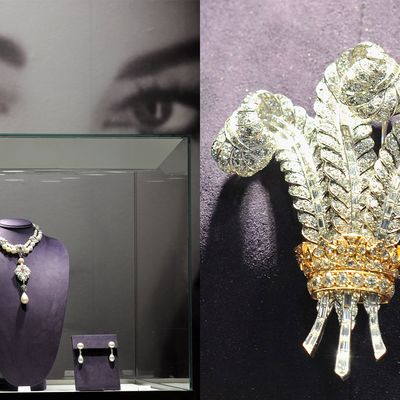 The La Peregrina necklace (left) and the Prince of Wales brooch.
Photo: Stan Honda/AFP/Getty Images, Slaven Vlasic/Getty Images
To set the mood at last night's auction of Elizabeth Taylor's jewelry, Christie's played a short video of the actress, taken in the sixties while she suns herself by a pool and talks to Richard Burton on the phone. Burton is apparently off at an auction, bidding for jewelry on Taylor's behalf. "Darling, it sounds like things are going for ten times their [estimated] price," she says to him, adding, "Holy cow." She then tells him to buy it all, which he surely did.
Last night's bidders followed suit, setting a new world record for the amount spent on a private jewelry collection sold at auction. (The previous record was held by the Duchess of Windsor's collection, which made $50,281,887 when it was sold was sold in Geneva in 1987.) 
According to the Telegraph, here are a few examples of the sales:
The La Peregrina necklace, a diamond, ruby, and pearl rope with a sixteenth-century pear-shaped pearl pendant, thought to be one of the finest pearls in the world: $11,842,500
The Taj Mahal ruby and gold chain by Cartier: $8,818,500 (a new world record for an Indian jewel)
The Prince of Wales brooch, formerly owned by the Duchess of Windsor: $1,314,500
The Elizabeth Taylor Diamond, a 33.29 carat Asscher-cut ring given to her by Richard Burton in 1968: $8,818,500
So, hooray for that, then — now your Christmas wish-list probably seems trifling in comparison. A portion of the proceeds will go to the Elizabeth Taylor AIDS Foundation.