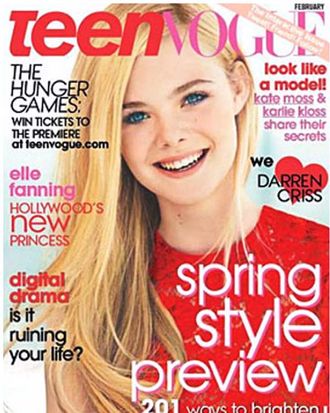 Elle Fanning's Teen Vogue cover.
Elle Fanning covers the February issue of Teen Vogue, and in the accompanying interview she and her older sister Dakota talk about clothes. Says Dakota:
There's a no-closet-sharing policy, but as far as Elle is concerned … I'll go in my room, and there will be clothes on the floor, clothes missing, clothes that are now in her closet. Last summer … I was in London working on a film, and I was looking online and these pictures came up on my homepage. She was in my hat, my dress, my shoes. I called her up and was like, 'I caught you! They photographed you wearing all my stuff. Put it back!'
In addition to acting her own age (13), Elle likes to dress it, which is nice. So opposed is she to dressing "too old" that she tells Teen Vogue she'd "rather look like a two-year-old than a 21-year-old." Which is wise of her, really — 21 is practically ancient by fashion standards.