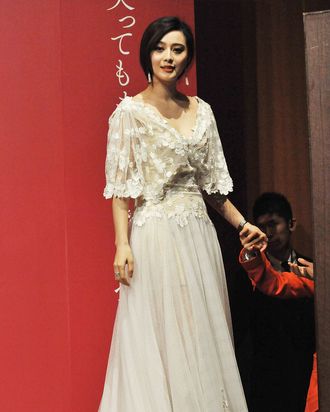 Fan Bing Bing.
Photo: Jun Sato/2011 Jun Sato
Chinese actress Fan Bing Bing took a page out of the Taylor Swift princess dresses rule book and wore a feminine and floaty gown by Tadashi Shoji while promoting her latest movie My Way in Japan last night. She accessorized the delicate and billowy gown simply, with long drop earrings.
The quirky actress has an affinity for bridal-looking gowns but she's also not afraid to turn a cardigan into a turban every now and then.  Do you prefer Bing Bing when she keeps the look clean or would a turban (or other headgear) have nicely jazzed up the ensemble?