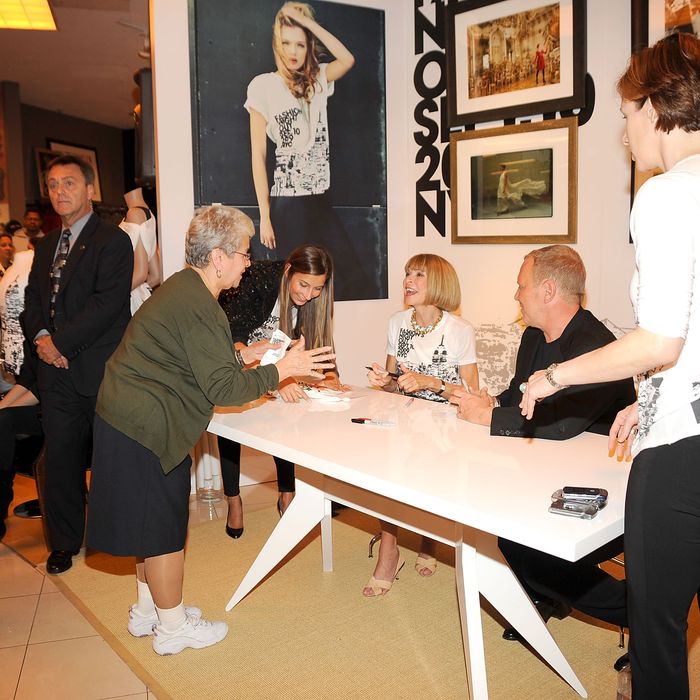 Anna Wintour signing tees in Queens on the first FNO. Memories!
Photo: Gary Gershoff/Getty Images
What started off as an unexpectedly drunken experience and became, ironically, a much bemoaned event is returning for a fourth time in 2012. Despite complaints from fashion critics, people who hate traffic (because there are those of us who LOVE traffic), and even retailers, Fashion's Night Out will impose on New York and more than 250 cities around the country in September. The exact date is still pending, depending on when New York Fashion Week runs, because FNO must occur on the first or second day of it, which is terribly convenient for all the designers who have to put shows on and everyone else who has to attend them.
Each year, it seems like a few more stores drop out of participating in Fashion's Night Out, Vogue's way to turn shopping into a cause and try to protect designers and retailers from the recession. The problems many publicists for these stores cite are: the investment of energy and money in marketing and executing an event not affecting their bottom line; fear of getting in trouble for underage drinking on their premises; and difficulty coming up with something new to do each year. Because what's the point of doing FNO if your event isn't special enough to compete with Taylor Lautner doing a strip tease at Dolce & Gabbana? Or a live showcase of models eating full-fat, gluten-containing pizza (no blotting allowed!) on the fur hammock at Alexander Wang? Actually, maybe these aren't that hard to come up with. We just made those up in thirty seconds, so ahem, Dolce & Gabbana. But if this is really going to happen for a fourth time, can we request a little diversity in the events? Like, less show-tune singing, more eating contests? Because this isn't your morning shower, and seeing Anna Wintour in a T-shirt mingling with people who live in the outer boroughs doesn't have to be the most exciting part of the night.