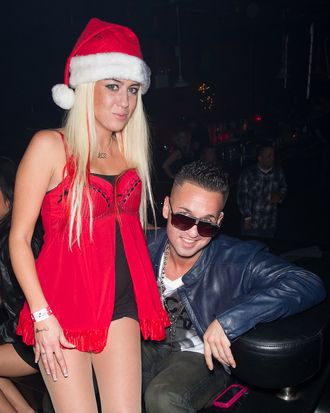 A photo op that's about as awkward as the family game of 'Charades' that always happens during the holidays.
Photo: Ouzounova/Splash News
Jersey Shore's Mike "The Situation" Sorrentino hosted a party at a night club in Philadelphia last night that may or may not have been holiday-attire-themed — who knows? He looked just thrilled to be there, in his trademark shades, rosary beads, and a deep V-neck white tee under a blue leather jacket, as does his female "friend" wearing a jaunty Santa hat and red negliglee.
Are you planning similar looks for your holiday parties over the next few days? And is this shot filling you with festive cheer, like it is for us here at The Cut? On that note, we're signing off early for the (long) weekend, and will be back to our regular blogging schedule on Tuesday. Happy everything!