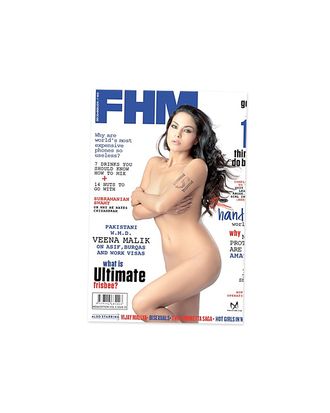 Pakistani actress Veena Malik appears nude, naughty bits hidden, on the cover of Indian FHM magazine. Naturally, this has riled conservatives in her home country, where one called the images "shame for all Muslims." Even her father told the AFP, "I have disowned her. I have severed all ties with her, and I don't want her to have any share in whatever meager assets I have until she is cleared of the controversy and pledges not to visit India again." Yet Veena is suing the magazine for $2 million, alleging they photoshopped her nude for the cover, and claiming she was topless, but not completely nude, at the shoot. The magazine's editor claims Veena is lying.
FHM India editor Kabeer Sharma said the photos are authentic and claimed there's video footage of the shoot to prove it.

"It's a considered decision on our part not to make that video public because of the nature of the video," he said.

"The allegations are entirely false, and we are investigating various options, including a countersuit."
Veena also claimed in her lawsuit that she didn't know the temporary tattoo she put on her arm for the shoot — the letters ISI, which stand for Pakistan's corrupt Inter-Services Intelligence agency — were meant to refer to the ISI. But back to the question of whether or not she was nude or subversively photoshopped to look that way, it's a case of he said, she said, though she does have that plastic look mightily re-touched models tend to have. 
In the meantime, the government of Pakistan is threatening to revoke her citizenship.
"There will be action. Cancellation of her citizenship, banning her entry in the country or trying her in a court are the options," a senior government official told this newspaper.