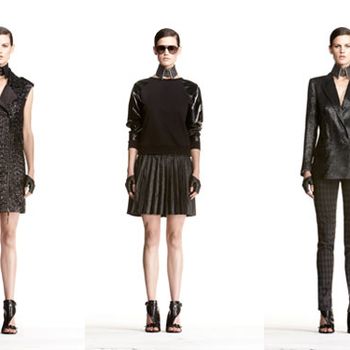 Three new images of Karl Lagerfeld's forthcoming line, Karl, have been released by Net-a-Porter.com today, along with a lengthy description of the 70-piece collection.
Here's a condensed version of the press release:
The predominant colors are black, white, gray, silver, burgundy and pink.
Some pieces have vinyl sleeves.
Athletics-inspired shorts feature rubber patches stamped with Karl's logo at the waist, "reminiscent of a boxer's belt."
A pair of heavy cotton shorts have zippers on the thigh.
Expect lots of tuxedo elements, like bib-front shirts and black wool pants with tuxedo stripes.
T-shirt dresses will have "plunging zippered necklines."
Materials include metallic silk, cotton jersey, and, on skirts particularly, leather and sequins.
There will, of course, be lots of detachable collars. 
As previously reported, the prices will range from $50 for a canvas bag embellished with a portrait of Karl to over $1,000 for some of the leather pieces; it hits Net-a-Porter on January 25.
Related: See Video of Karl Lagerfeld's Lower-Priced Line, Karl
Earlier: Karl Lagerfeld to Launch Two Signature Collections, Cut Back on Collaborations