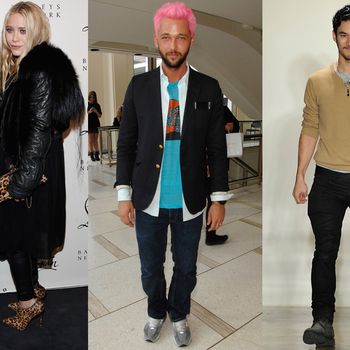 The Olsens, Chris Benz, and Joseph Altuzarra.
Photo: Cindy Ord/Owen Hoffmann/Stefan Gosatti
This wouldn't be the end of the year without a lot of lists about people who were good and bad at stuff. And Forbes wouldn't be Forbes if they didn't elbow their way into the fray with twelve of them. The scion of arbitrary, page-view-drawing list-making has released its "30 Under 30" list of 30 people under the age of 30 across twelve categories "who aren't waiting to reinvent the world." Landing on the list of 30 "disrupters" in the art and design category are a few of your favorite fashion designers, like the Olsen twins, who went from selling kids' things at Walmart to selling $1,600 sweaters at Bergdorf Goodman; Chris Benz, whose hair is reliably and delightfully as colorful as his collections; and Joseph Altuzarra, who in a stroke of genius put birds (and decorative jungle-inspired foliage) all over his spring 2011 runway.
A non-fashion reporter from Forbes sat down with Altuzarra, the headliner in the design category, for an entertaining chat about how he made it so young (he's 28) and what exactly it's like to be an assistant at Marc Jacobs, Proenza Schouler, and Givenchy.