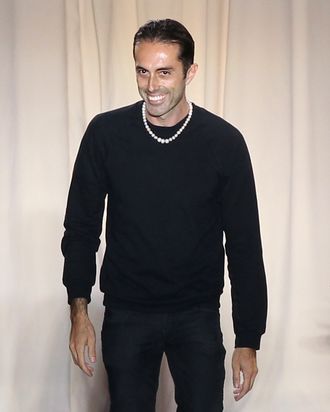 Giambattista Valli.
Photo: PIERRE VERDY/2011 AFP
Giambattista Valli showed his first couture collection in Paris earlier this year as a guest of France's Chambre Syndicale — the governing body behind the country's shrinking couture industry. The process for designers to be granted full, official appellation and membership usually takes five years, but Valli's status has been upgraded after just one collection. Chambre Syndicale's president Didier Grumbach explains, "It was clear from his show [in July] that he has caught the attention of a new generation of customers, and he immediately took important orders for his couture … it's true that the haute couture appellation gives him legitimacy, but objectively speaking, he is already part of the system."
Each season since the worst of the recession led to downgrades in couture show spending and even a couple fewer shows, couture week has felt progressively smaller, even with the addition of a supplemental couture jewelry showcase and now Valli, who's sure to deliver another robust collection during the next round of couture shows in January. If the elite Chambre wants couture to flourish — and we certainly hope so, because few things are more pleasurable than looking at door-jamming couture gowns — they'll probably have to add a new member or two still. Yet then there would be the quandary of who?