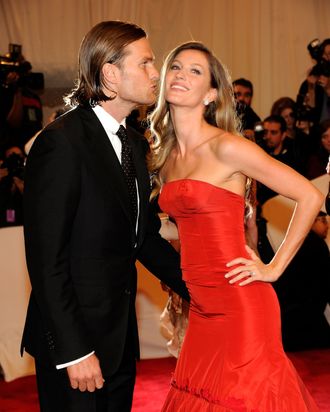 Tom and Gisele.
Photo: Kevin Mazur/2011 Kevin Mazur
Construction on Gisele Bündchen and Tom Brady's 22,000-square-foot "green" house in L.A. is almost finished, which means they'll move in soon. And while Gisele has done her best to use lots of sustainable materials and whatnot, some environmentalists are wary. Matt Hickman, a blogger for the Mother Nature Network, writes:
Bundchen felt the need (or the pressure, rather) to walk the talk when it came to reportedly outfitting her $20 million home castle with as many eco-friendly bells and whistles as possible: solar panels, energy-efficient appliances and lighting, rainwater recycling, sustainable building materials, and more. The home, which has been under construction for 18 months, also features eight bedrooms, a six-car garage, a nursery for Bundchen and Brady's young son Benjamin, a wine cellar, an elevator, a training area for Brady, an indoor bridge connecting the two wings of the home, a lagoon-shaped pool, and enough water features to make Celine Dion drool at the mouth.
So in other words, it doesn't sound very "green." (Something about the six cars, maybe.)