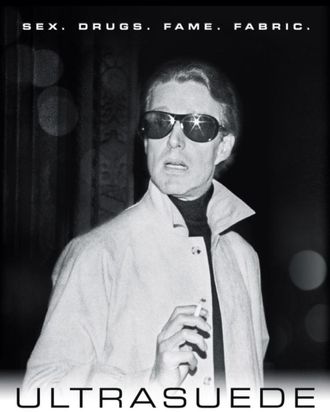 "Sex, drugs, disco, great fashion." So goes the narration of Whitney Sudler-Smith in the beginning of his new film, Ultrasuede: In Search of Halston, about the life and work of the late Roy Halston Frowick. And he delivers all of those things, though mostly the latter two, along with plenty of celebrity guests. Audiences drawn to the subject matter will be happy to see it open with an icon, Liza Minnelli, who invited the crew into her New York apartment, which Halston decorated when she was out of town many years ago. She fondly tells Sudler-Smith, who appears on camera throughout the film, that she came home to not only a new decorating scheme, but a breathtaking sea of candles. The apartment later landed on the cover of Architectural Digest. If only Halston's fashion work ended so gloriously.
In the past five years, the niche audience that sees fashion documentaries have been treated to films about Karl Lagerfeld, Marc Jacobs, Vogue, Yves Saint Laurent and Pierre Berge, and Bill Cunningham. Save St. Laurent, those subjects live and work today. Sudler-Smith may have made himself the starring character of Ultrasuede since Halston is not here to tell his own story. Sporting a robust mustache, leisure suits, and aviator sunglasses (sometimes, indoors), he strolls Seventh Avenue searching for Halston's star on the Fashion Walk of Fame; interviews everyone from André Leon Talley to Billy Joel; visits a huge Halston archive that ended up at Lipscomb University's College of Bible and Ministry in Nashville after FIT rejected it; and even has a drink with his mom, socialite Patricia Altschul on her porch to talk about why he's interested in making a film about a fashion designer. His seventies gear perhaps unintentionally comical at moments, Smith probably didn't have to take on such a big role in the film, since he found plenty of riveting archival footage of Halston himself doing interviews, plus a lot of his friends and colleagues to talk in vivid, humanizing (and at times de-humanizing) detail about what the designer was like.
Excess is the predictable part of Halston's story. At his label's peak, Halston spent in the low six-figures on orchids for his studio. He never traveled anywhere without an entourage of stunning models in coordinating Halston looks. He held famous dinner parties in his West Village townhouse where celebrity guests who were too drunk or too high would fall down his infamous, railing-less staircase. He dated an Andy Warhol favorite – the loathsome, drugged-out and promiscuous Victor Hugo – described by a former acquaintance as "the biggest mess." He frequented Studio 54, which Sudler-Smith does his best to rediscover through tales of living people who (allegedly) remember it. Fellow Warhol clan members the DuPont twins tell of cocaine, Quaaludes, and filthy designated sex mattresses in the basement. Stylist Philip Bloch, who was a busboy there when Halston frequented, recalls "six inches of glitter on the ground" at the New Year's party. Naeem Kahn, who assisted Halston in the seventies, remembers going there on Valentine's Day when all the waitresses were naked (and sporting dyed pink pubic hair shaved into the shape of a heart), staying until morning, and then passing out on the subway on his way home.
Minnelli, however, says that, because they had to work in the morning, she and Halston would slip in with their entourage, enjoy a sober hour or so, and then sneak out the back while everyone else stayed and reveled. In the beginning of the film, she instructs a timid-seeming Sudler-Smith, "I urge you not to go for the trashy stuff." She surely wouldn't have signed on if Smith were making that kind of film, but the fact that he did not is to his credit. The stories of Halston, man and label, are tragic more than they are naughty. And the best way to tell a tragedy is by exploiting the fact that people and things aren't "tragic" unless they were also great.
We hear of Halston's influence on fashion from the always entertaining Vogue editor André Leon Talley, who goes playfully hard on the director over cappuccinos whenever he displays a shred of ignorance about his subject matter. Halston started at Bergdorf Goodman in the sixties as a hatmaker. He famously put Jackie O. in the iconic pillbox hat and a cloth (instead of fur) coat for her husband's 1961 inauguration. Eventually he left Bergdorf to start his ready-to-wear label with the help of a few investors. "Minimalism, he invented," Talley says. Halston's favorite phrase was "less is more."
And less is what he did, to a degree, from layering (so long, twinsets!) to sewing (one of his most famous sartorial ideas is a dress so expertly cut as to require no seams). But he also did more: more sequins, more billowing fabric, more spectacle. Wonderful archival footage of his fashion shows from 40 years ago depicts models who behaved more like ice dancers on his runways than anything like the models we see today. They twirled to flaunt their dolman sleeves and caftans, they posed often, they looked at the audience. Former Halston model Angelica Huston recalls "challenging" editors with her gaze and posing dramatically at the end of the runway during her first walk for the designer, which upset him until he realized the next day her audacity had helped garner the kind of press coverage he sought.
But those were the glory days. In the early eighties, Halston signed what he said on television at the time was a one-billion dollar deal with JCPenney to make clothes the masses could afford (try to imagine a designer today so publicly revealing the fruits of such a licensing deal). Though the fashion world embraces and breathlessly celebrates making clothes for the masses now, and licensing deals are everywhere, then it was not only revolutionary but also outwardly discouraged. Not wanting a secondary association with the masses, Bergdorf Goodman dropped him. The label had grown to encompass everything from fragrance to luggage to carpets, and the name Halston itself became a joke, even providing what is now depressing fodder for Saturday Night Live.
Halston sold the rights to his name when he signed the Penney's deal. Eventually his company was bought out by Norton Simon, which also, embarrassingly for Halston, owned Playtex. Norton Simon went on to be bought out by Beatrix Foods, which was known for, even more embarrassingly, mayonnaise. Even now, fashion followers will wince at that association.
With the buyout Halston was eventually stripped of the excess that defined him, including his $150,000 yearly orchid budget and his glamorous mirrored, high-rise office. Gone was Halston, too, mostly to the bathroom multiple times in a single business meeting. Huston says when she met Halston, she didn't have time for "that," meaning drugs and partying. Nor did model Pat Cleveland, who witnessed his self-destruction but was unable to stop it. Halston eventually was dismissed from his label, and died in San Franciso in 1990 at the age of 57 from lung cancer complicated by HIV.
In 2007, Harvey Weinstein curated a team of people, including ex-Jimmy Choo scion Tamara Mellon and Rachel Zoe, to revive the Halston label. These developments were too recent to include in Ultrasuede, and doing so would only make the movie's ending that much sadder: Zoe, an avid Halston collector, dissociated herself from the revival not long after she signed on (Sudler-Smith approached her about participating in the film around the time she was dismantling her contract, so she didn't participate). The team was plagued with unstable management and halfhearted investors, who seemed to have good intentions but did not want to invest the necessary energy and resources to see them through. That revival fizzled not long after Sarah Jessica Parker practically sneaked out of her contract as creative director of the more affordable Halston Heritage line — which will endure without the pricier Halston line in her wake. (Halston hired Parker after shooting for Ultrasuede wrapped, but she lent her support by attending its Tribeca Film Festival premiere in 2010.) Now Halston Heritage is run by ex-BCBG president Ben Malka, and owned by him and Hilco Consumer Capital, which bought Weinstein and Parker's contracts out. Though BCBG is a watered-down, mid-market mass label that can hardly be thought of as fashion-forward, it's unclear what Malka will do with Halston.
At a screening of the film last week, Cleveland called what's happened to the label "terrible." She believes it still has value, but frowns upon the risky decision to appoint Parker, emphasizing that whoever takes it over "has to be a designer." Indeed, all of those in the industry who remember him in the film can't get over how much Halston knew about making clothing. The movie is named Ultrasuede after not drugs or a nightclub but one of Halston's signature fabrics.
Like Halston, Ultrasuede has its eccentricities. Any Warhol, disco, or seventies-enthusiast will find much to enjoy in it. Smith, whose hair changes from brunette to blond from one scene to the next, distracts but also amuses. He says one reason he decided to essentially star was to make the people speaking on camera feel more comfortable knowing they were in it together. Being on camera may be awkward for most people, but it's hard to believe Liza Minnelli, Angelica Huston, and André Leon Talley need his comfort to be on screen.
But Ultrasuede entertains, proving that if a life is truly great, you can spend more time on the nice parts instead of the scandalous ones and still tell a very compelling story.
Ultrasuede: In Search of Halston will be available On Demand on December 26, and in select theaters in February.