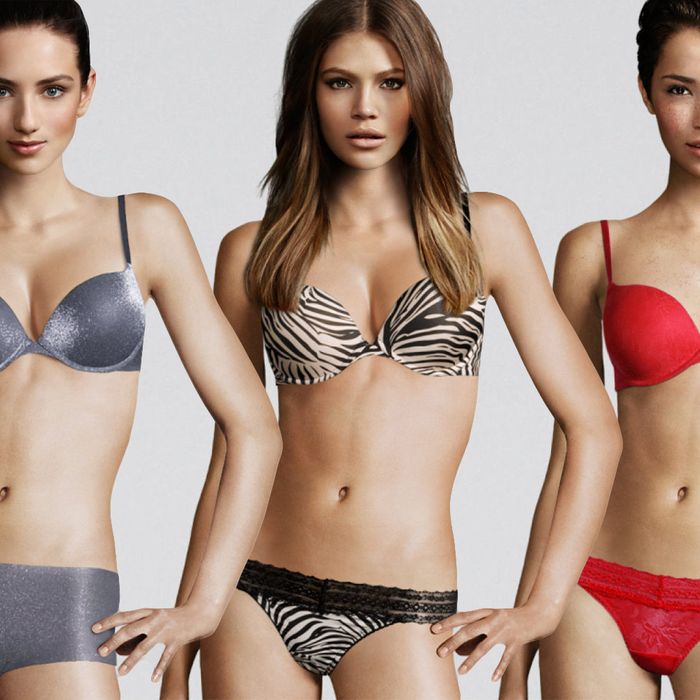 The models fronting H&M's new holiday lingerie campaign are unreal, literally. Jezebel translated an article from Swedish newspaper Aftonbladet in which H&M press officer Håcan Andersson confirms that their new lingerie-clad bodies are "completely virtual." For H&M's website or catalogues, much of the store's clothing is now shot on mannequins, which are then humanized via photo-editing software — which explains the eerily uniform pose now increasingly commonplace online.
H&M also shot real models for the campaign, but only to superimpose their heads on the standard body form. Aptly, H&M calls them "facial models," who are apparently aware of their abridged role in the finished catalogue shots. The form, which is also the base used at online styling studio Looklet.com, is then edited some more to sync with differing skin tones, and even for the addition of subtle detail, like a spattering of freckles as seen on the model on the far right above (whom Top Model fans might recognize as cycle 12 alum Fo Porter). Meanwhile, more well-known models like Heather Marks and Cintia Dicker appear to keep their own bodies, since they're pictured in different poses than the generic stock form.
Håcan Andersson, again quoted in Aftonbladet, argues that H&M's decision to move its modeling away from actual human bodies isn't irresponsible. "It's not about ideals or to show off a perfect body… we are doing this to show off the garments," he stated. (He notes that H&M treats many of its menswear models the same way.) But if even a model's real-life frame can't be trusted to show off H&M's clothing, it seems odd to tweak the body instead of the garment in question.