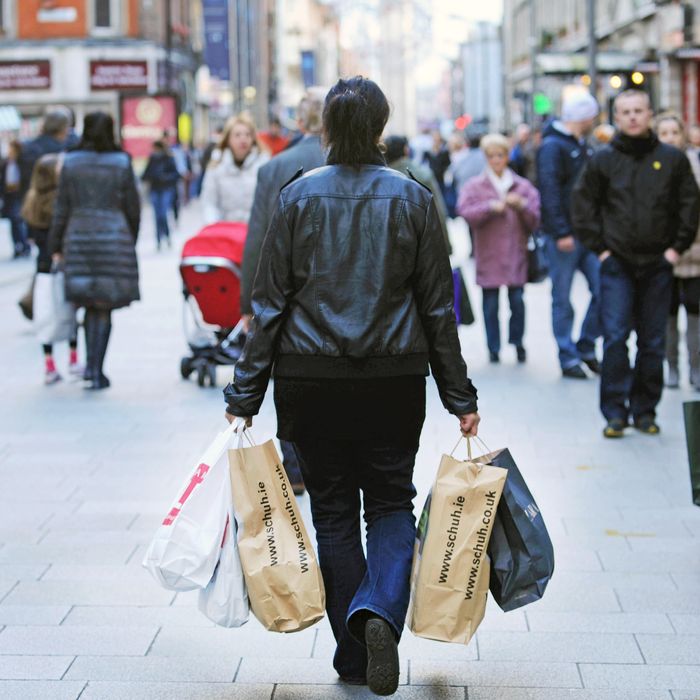 See, 99 percenters CAN make a difference.
Photo: Aidan Crawley/Bloomberg via Getty Images
Despite lots of pearl-clutching from the retail industry about this year's shaky economy, it turns out that people — even those who aren't rich and beautiful — still like to shop! A lot! According to WWD, American consumers are currently on the verge of breaking the national record for holiday sales, which was set back in the flusher times of 2007 (you know, those quaint days of yore when people still thought their houses were worth what they were paying for them, and the one percent was just a type of milk). 
Reports WWD:
If the current estimate of a 3.8 percent increase in general merchandise, apparel and accessories, furniture and other categories, or GAFO, sales projected by the International Council of Shopping Centers is realized, as appears increasingly likely, U.S. holiday revenues would hit $252.3 billion, $600 million higher than the $251.7 billion reached in 2007, when holiday sales were up 1.6 percent. Since then, holiday sales have fallen 6.1 percent in 2008, to $236.3 billion, and dropped another 1.3 percent in 2009, to $233.4 billion, before moving back into positive but still subpeak territory with 4.1 percent growth last year to $242.9 billion, $8.8 billion below their historic high.
So, onwards and upwards, folks! Let's get that credit card debt back up higher than student debt, where it belongs.
Related: Glory Be, People Are Shopping!