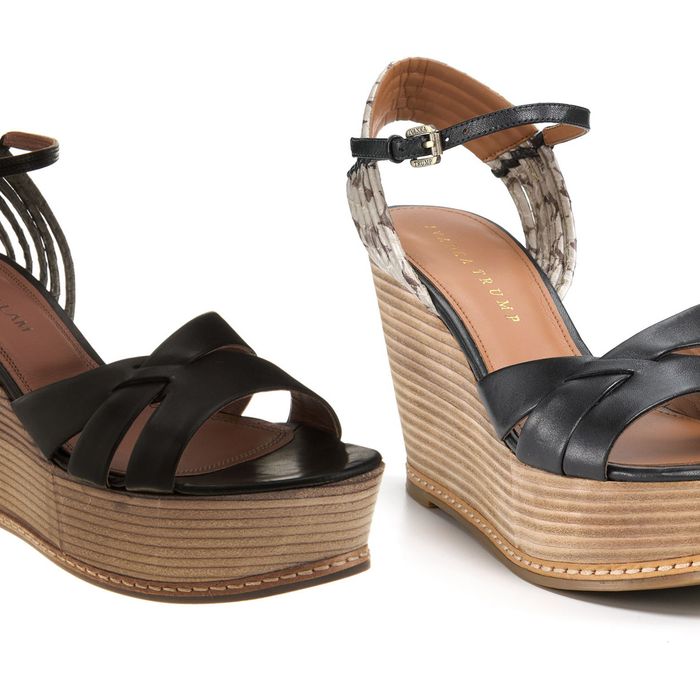 Derek Lam's Ayami sandal (left) and Ivanka Trump's Cadie sandal (right).
Marc Fisher Footwear, the licensing company behind Ivanka Trump's shoe line, has refused to cooperate with Derek Lam's cease-and-desist letter regarding a look-alike sandal. Lam CEO Jan-Hendrik Schlottmann accused Trump's company of "blantantly" copying their Ayami wedge shoe on Wednesday, and Lam's lawyers demanded that all of Trump's Cadie wedges be pulled from shelves within seven days. But yesterday, Marc Fisher Footwear announced that they have no intention of meeting these demands.
WWD reports:
"The Lam wedge sandals are of a popular design type that has been used by numerous manufacturers for many decades. There is nothing iconic about the appearance of the Lam sandal," a representative from Marc Fisher told WWD. "The Ivanka Trump sandals prominently display the Ivanka Trump name, and there can be no confusion as to the source of the Ivanka Trump sandals. Therefore, Marc Fisher Footwear, the licensee of the Ivanka Trump brand, strongly denies Lam's claims."
Unseemly conflicts like this one are usually settled quietly between the respective parties, so it'll be interesting to see how this plays out in the coming weeks.