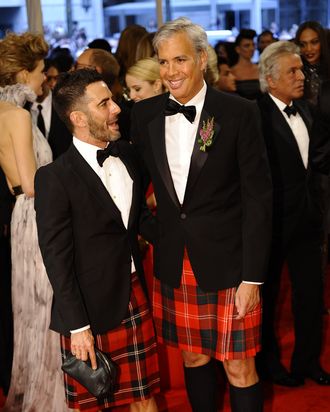 Marc Jacobs and Robert Duffy.
Photo: Timothy A. Clary/AFP/Getty Images
Court records filed last week reveal that the lawsuit brought by ex-executive Patrice Lataillade against Marc Jacobs Co. has been resolved. Lataillade filed his suit back in March, alleging he was fired from the company after complaining about improper behavior in the workplace; the specifics included reports of naked employee photo sessions and mandatory pole-dancing (not for fitness purposes, either).
LVMH's response, three months later, alleged in turn that Lataillade's firing came about not because of his complaints, but because of "serious financial misconduct." (Lataillade later denied this.) For the past few months, however, the two sides appear to have hashed things out behind the scenes, and recent legal papers confirm the case's closure. An LVMH spokesperson confirms this resolution "was to the satisfaction of both parties." So everyone's happy just in time for the holidays, and perhaps even with settlement checks to unwrap.