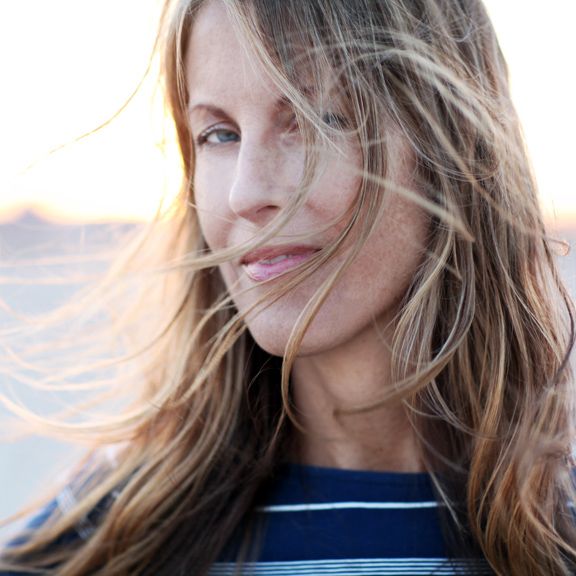 Julia Leach is a virtuoso of the well-considered detail. Everything about CHANCE, her year-old lifestyle brand, indicates painstaking attention to getting the little things right— from the universally flattering fit of her classic boat-neck to the pin-striped tissue paper in which her merchandise is wrapped. After spending her formative years at Chiat/Day and Kate Spade, Leach started her own company with the premise that a great striped tee is "the paperclip of personal style," as she puts it. Her brand has since grown from the initial line of signature tees, espadrilles, pajamas, and sun hats to include jewelry, towels, totes and more. We sat down with Leach to discuss what makes one T-shirt better than another and how she plans to take CHANCE into its second chapter. Fingers crossed, this will mean permanent stores in one or two cities in the near future. 
On CHANCE's website, there is a timeline of the striped shirt through the ages, worn by icons like Picasso and Jean Seberg. But there are also some great surprises like Hunter Thompson and Kurt Cobain. How long did that take you to compile?
The timeline itself came together quickly —  in an afternoon, or a day —  but that's because I'd been stashing away images of people wearing stripes for years.
That makes sense because this whole project seems like the result of a lifelong obsession. When do you recall first owning something striped?
My older brother discovered skate and surf culture in the late seventies–early eighties, and I discovered OP thanks to the magazines he subscribed to. I have distinct memories of one of their skinny-stripe tank tops being in heavy rotation one summer. Simultaneously, my mother was reading French Elle and Gourmet (she later moved to France), so those references, combined with her classic, mildly bohemian sense of style, seeped into my consciousness. 
Do you have a favorite person who's worn stripes over the years?
Jane Birkin certainly looks great in a striped tee — along with everything else she's worn, then and now.
Who would you like to see wearing CHANCE?
It's fun to see anonymous people wearing it. A girl was sitting across the room from me at The Smile recently, having breakfast and wearing the Various Stripe pattern, and she had amazing style, very tomboy-chic. I like seeing friends wear pieces from the line and giving the styles their own spin. In terms of celebrities … maybe Mia Wasikowska, Michelle Williams, Feist, Lauren Hutton, Charlotte Rampling. 
There's a big age range there. Does that hint at a broader philosophy about how you think women should dress?
Certainly I am interested in style, but I was never so much interested in trends. CHANCE is not age-specific. I see it as existing for a woman who has explored fast fashion, but the things that have stayed in her wardrobe are those pieces that she can wear again and again and they always look fresh and hold up in terms of quality. I have seen some really fashionable people wearing it, and they are layering it with Prada and lots of accessories, and that looks great too.
So, will you always be keeping the theme of stripes?
Always, yes. But for Spring 2012, we've looked to California for inspiration. We'll be using navy but adding a pool-colored aqua, a Palm Springs–sand color, and even a tiny bit of pink, like the flowers in Santa Barbara or San Francisco. It's not just French or just nautical. It's about a sense of style.  Whether you're in California, Stockholm, Tokyo, Chicago, or wherever, this aesthetic exists. And it really is about appreciating quality, simple things, and being curious about culture, rather than just a purely "French" idea. Obviously people associate the Breton stripes only with France, but you find them elsewhere, like South America and the Northwest. It translates all over the world.