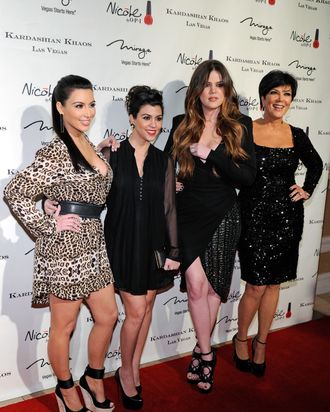 (L-R) Television personalities Kim Kardashian, Kourtney Kardashian, Khloe Kardashian and Kris Jenner arrive at the grand opening of the Kardashian Khaos store at the Mirage Hotel & Casino December 15, 2011 in Las Vegas, Nevada.
Photo: Ethan Miller/Getty Images
Yesterday, Star's new issue claimed that many Kardashian-branded products are made in Chinese factories that regularly flout labor regulations. The Kardashians' rep said an investigation would take place, and it was a quick one: TMZ reports the family has already determined that the accusations are false, and is planning to sue the magazine and the organization that apparently confirmed the factories' sub-standard conditions without actually visiting them. Merry Kristmas indeed.