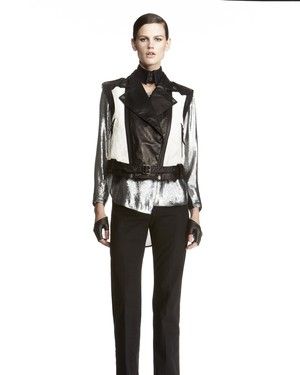 A look from the forthcoming Karl collection.
Photo: Karl Lagerfeld
We reported earlier today that Net-a-Porter started a countdown for its exclusive debut of Lagerfeld's forthcoming diffusion line, Karl, but allow us to clarify that it is, in fact, a "Kountdown." WWD reports that all the press materials for Lagerfeld's line are sprinkled with the letter K (including adjectives like "ironiK, artistiK, aKcessible") in a tactic that seems … familiar. But if anyone can wrest the consonant away from you-kn0w-who, it's Karl, for reasons that need no explanation. In other news, here's the first photo of an outfit from his collection, modeled on Saskia de Brauw. Prices will range from $95 to $450 and the line will drop on January 25.
Earlier: See Video of Karl Lagerfeld's Lower-Priced Line, Karl