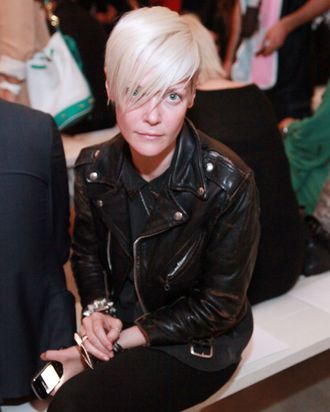 Kate Lanphear.
Photo: Astrid Stawiarz/Getty Images
Elle style director Kate Lanphear doesn't seem to agree with T editor Sally Singer that the circus of street-style photographers at the various fashion weeks has become a "bit of a comic mess," where showgoers either blatantly attempt to become "quasi-celebrit[ies]" or photographers attempt to create them. "I think for a long time that was lost in magazines," Lanphear tells Business of Fashion. "Now you actually get to see these women — colleagues, editors, buyers — who love it so much actually wearing these clothes. It's very inventive in the way that they do it, and it's done in such a different way, such a personal way, so I totally get the fascination for it." Lanphear is a street-style star herself — one of the originals, in fact — who seems to appear less on the blogs each season, either because new levels of attention-getting are being set or because, as more and more street-style photos are vomited onto the Internet, hers get lost in the sludge. But Lanphear distinguishes herself by not looking like she's dressing for the purpose of getting attention, rather than the purpose of being herself.
Lanphear told Business of Fashion:
"The street-style thing is hard for me to talk about, because it makes me pretty wildly embarrassed," she admitted. "I get really, really shy. It's like hearing your own voice on an answering machine."
She makes a point: There is something very awkward about preening for a flock of photographers — basking in attention or trying to get attention — in a sea of judgmental fashion people who may feel embarrassed for you. And it may be more embarrassing now that it's been proven that there is a fairly easy way to go about getting shot. Lanphear is one of the few people who gets photographed these days without deliberately trying to.