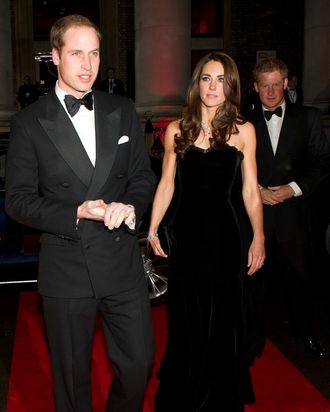 Prince William & Kate Middleton.
Photo: ARTHUR EDWARDS/2011 AFP
After joining the Royal family for a pre-Christmas lunch today at Buckingham Palace, Kate Middleton stepped out with Prince William at an awards ceremony for members of the British military tonight in London. She wore a strapless black velvet McQueen gown with some subtle frills along the bustline, and accessorized with a matching black clutch and lots of jewelry — a large necklace featuring pink gems, a chunky bracelet, and teardrop earrings. Without a jacket, she must have been very cold, but the form-fitting look definitely puts those pregnancy rumors to bed, for now. Indulge your "Middleton Mania" with this and all the Duchess of Cambridge's recent outfits in our Kate Middleton Look Book.