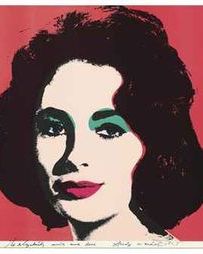 Warhol's portrait of Elizabeth Taylor sold for $662,000.
Photo: Christie's
More items from Elizabeth Taylor's estate were auctioned off at Christie's last night, including the rest of her jewelry, some of her clothing, and a lithograph of Andy Warhol's portrait of her from 1964. Her bridal gown from her second wedding to Richard Burton, designed by Gina Fratini, went for $62,500. And because no spectacle is complete without a Kardashian, Kim showed up and bought a set of three Lorraine Schwartz bangles made of diamond and jade; she wound up paying $64,900 for them, about ten times their estimated price.
Tonight, the rest of Elizabeth's clothes and accessories — including bags by Hermès and Chanel and a set of vintage Louis Vuitton luggage — will be sold. But Christie's obviously left the best of Liz Taylor's belongings for last: Tomorrow's final "Memorabilia" sale not only features trinkets like clocks and picture frames, but most impressively, an extensive collection of large, sparkly purple geodes. 
Earlier: Elizabeth Taylor's Jewelry Auction Broke World Records