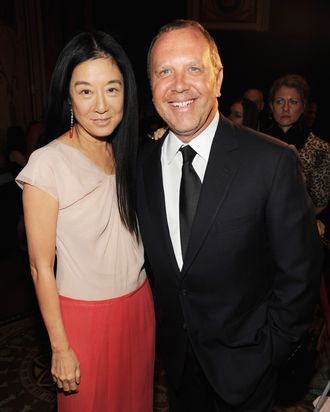 Wang and Kors may soon have even more in common than excellent dermatologists.
Photo: Kevin Mazur/WireImage
Michael Kors's label announced its IPO on Friday, and its valuation could be as high as $3.63 billion. This is obviously great news for Kors himself, as well as for his business partners, Silas Chou and Lawrence Stroll, who backed Kors even after his business faced bankruptcy in the nineties (and, it must be said, each have fabulous names). Now that they're set to make a pile of money when Kors goes public, Chou and Stroll are said to be looking around for something new to invest in, and they've supposedly honed in on Vera Wang. While Wang currently runs several very successful licensing partnerships with Kohl's, David's Bridal, and Zale's, her main collection comprises a relatively small part of her business, and Chou and Stroll may be looking to invest in its growth. WWD reports that a deal is probably still a ways off, but that Chou and Stroll are in talks with Wang's husband, Arthur Becker.
Related: Michael Kors Is Going Public