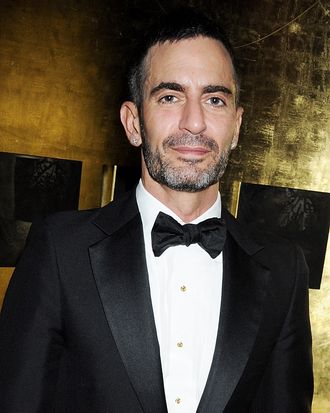 Single no longer?
Photo: Dave M. Benett/2011 Dave M. Benett
Last Friday, a Brazilian gossip blog ran a photo of Marc Jacobs getting a big, warm, sexy hug from gay porn star Harry Louis, along with the rumor that the pair are dating (the photo in question came from Louis's Twitter feed). They quoted Louis saying, paradoxically, he "[has] nothing to say about [the rumor]," though bloggers on Fashin found tweets from Louis in late November that suggest otherwise.
One tweet accompanying the photo reads, "What a great weekend thanks to the sweetest guy on earth, Marc Jacobs, see you soon in Paris baby… X." Another tweet from a day earlier, quoted on Fashin but seemingly deleted from Louis's Twitter page, is a bit more graphic: "Had a great weekend, and even better, such a great sex, and a great dinner. Cannot mention his name, but I can say, it's the hottest ever!" (Incidentally, this Fashin post contains a few NSFW images that are definitely not to be clicked on, say, while waiting at a JFK departure lounge on a Sunday night next to two old British ladies who might look at you curiously when you squeal and slam your laptop shut.)
In any case, though it's clear Marc has at least met Louis and has dated other escorts/adult film stars in the past, a few tweets (particularly one-sided ones) don't confirm even a casual dalliance.