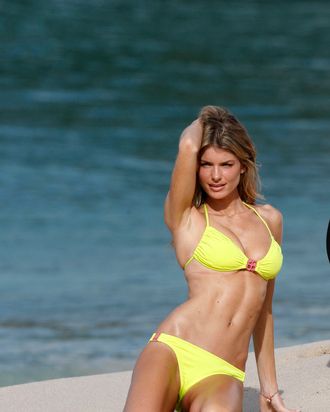 Marisa Miller.
Photo: Splash News/? www.splashnews.com
It's that time of year when your waistline is softening and thickening with foodstuffs made chiefly of butter and cookie dough and cheese and hopefully brandy, and you're planning how, when this "eating out of politeness" thing is all over, you're going to be in the gym seven days in a row! Doing an hour of spinning and four hours of yoga! No, you're already looking online for a ten-day yoga retreat where you'll only be fed tofu and lentils because you feel (are?) SO FAT and you don't want to be that girl when you get back to New York. Well Marisa Miller, who obviously knows how to not let this happen to herself, has revealed the secret to looking exactly like her.
"Eating smart is all about having an awareness of your body. The most obvious way to do that is by seeing it," explains Miller, who is making the leap to acting in the movie "R.I.P.D." with Ryan Reynolds. "So when you're trying to lose weight, spend more time wearing less. I don't think I could eat a plate of nachos naked — could you?"
So she probably also has enough self-control not to sit around smoking pot with the man she sleeps with.