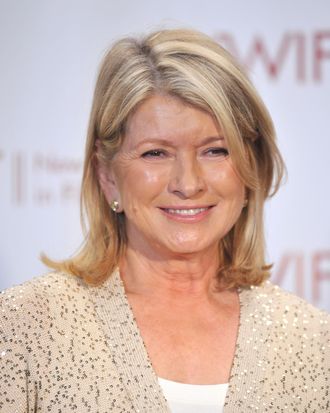 Martha Stewart.
Photo: Fernando Leon/Getty Images
If you thought the fashion business could be secretive, backhanded, and confusing in its dealings, just consider the world of home goods. Martha Stewart just sold 17 percent of her company to JCPenney for $38.5 million and forged a long-term licensing deal with the chain for her home products, without running it by Macy's, which has sold her line exclusively for the past four years. This is probably the biggest deal Penney has made since ex-Apple executive Ron Johnson came on as CEO last month. Apparently his courtship of Martha began "months ago," before his Penney gig officially started. With Martha in, Penney's current boldface name in furniture, Chris Madden, is on the way out, without ceremony.
"It was a total surprise to me," Madden, a longtime HGTV host and designer for Oprah Winfrey and Katie Couric, told The Post. "I found out about it this morning when I Googled the news."
Macy's may also dump Martha, even though her contract isn't up for another eleven years, and she's a fixture in the chain's commercials. In a statement, the store said it's "reviewing the Martha Stewart products sold at Macy's for potential changes in the future," citing "the proliferation of Martha Stewart–branded product in the marketplace."
But many in the business are wondering what Johnson, the Penney CEO, is thinking. An exciting executive appointment given his background at Apple and Target, the industry was eagerly waiting to see what he'd do with the struggling JCPenney, which has been losing market share to stores like Macy's and Kohl's. Johnson said he wants to reinvent JCPenney, but "is Martha Stewart really the way to go?" WWD asks, noting, "his moves so far have left the industry puzzled, unimpressed — or both."
A retailer who has done business with Stewart said, "Her merchandise has never been a barn burner in terms of sales. The category is not something that ever skyrockets. This is not like Target investing in Michael Graves and creating really edgy highly acclaimed product," a strategy Johnson, previously head of Apple Retail, is credited with during his tenure at Target, where he was a senior merchandiser.
WWD adds that Stewart's line has "bounced around from retailer to retailer," adding that it "lost some cachet and embraces styles and a color palette that's tasteful, safe and not particularly compelling." It was at Kmart, then Sears, and then Macy's, always performing okay, but never spectacularly. If Penney is really looking for innovation and excitement in the home department, they need to find a partner like Missoni (pie in the sky, but dreams really do come true) to do a line for them at prices that can compete with Target. That's the kind of stuff people seriously go out of their way for.