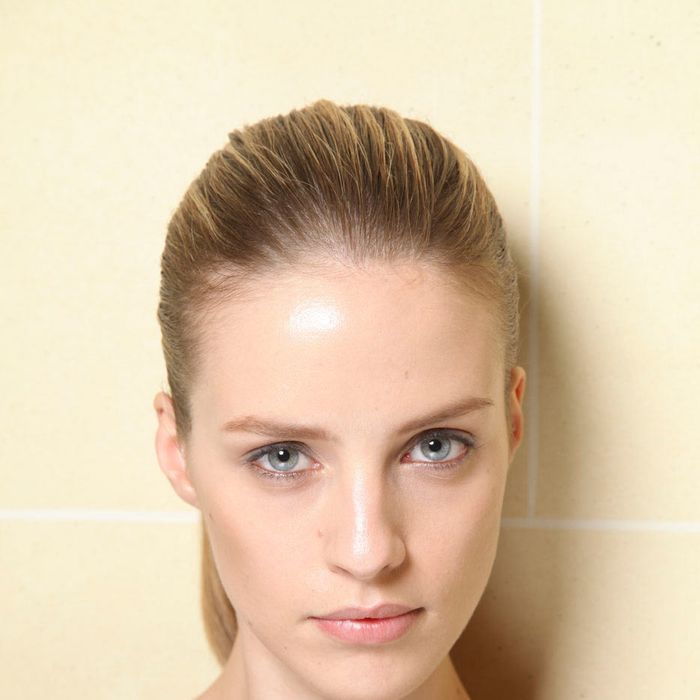 Photo: Copyright: DavideGallizio
For the past five years, French model Julia Frauche has been quietly working in the more commercial side of the industry. But after an agency switch to Next Models this August, the 23-year-old went from catalogue shoots to some of the world's most coveted catwalks. Raised in Cannes, Frauche booked an impressive roster of shows during the spring 2012 season: Calvin Klein in New York, Fendi in Milan, and Balenciaga, Givenchy, and Miu Miu in Paris. She's simultaneously built a stellar editorial track record, including spreads in Numéro, French Vogue, and American Vogue. We sat down with Frauche to chat about her resemblance to Raquel Zimmermann and how she handles the sometimes catty dynamic among models.

Tell me a little bit about your childhood.
I was born close to Paris but then moved to Cannes, where I grew up. I was more like a boy when I was young; I loved school and was always playing soccer with the boys. I would always hurt myself and have to go to the emergency [room]. The first thing my mom did whenever we went for the holidays was to check where the closet hospital was, just in case. I have an older brother and a younger sister. I'm really close with my brother – we're like twins.
How were you discovered?
I was scouted when I was 16 in the south of France, but I didn't want to be a model [then]. For me, it was like, "No way!" I loved school too much and wanted to go to college. Then, when I was 18, I moved to Paris for college and they asked me again [to model] and I was like, "Okay, now I'm 18, I've graduated. Why not try [it] for one year? And then after this year, I'll go back to school." And then, I didn't.
You've been modeling since you were 18, but you just landed your big break during this past spring 2012 show season.
Yes, I took my time to be ready. [Laughs.] No, actually, I changed agencies, that's why. I was doing money jobs and some magazines before. I was a really shy person when I started, so it took time for me to learn how to communicate with people. I learned by traveling, being by myself all the time. I'm more mature now and I know what I want to do.
What do you remember most about this past fashion season?
I have been doing this job for five years and I was like, "Okay, this is going to be my last chance. I'm going to try the shows and it's going to be the last time for me."
But you walked in shows before.
I did, but never in New York.  And so, if you don't do New York, there's no point.  So I was like, "Okay, I have nothing to lose."

Pick one show that was memorable for you.
I have two. Calvin Klein in New York because I didn't expect it at all.  I found out the day before I was walking the show, so I couldn't sleep all night. I was so nervous and I don't know — this feeling when I entered the catwalk, it was amazing. And then the second one was Chanel because I worked there for five years before, doing showroom and fittings, so it was a big gift for me to do the show.
Did you ever feel other models getting competitive during the shows?
Yeah, a little bit. For me, it's okay, I'm happy for everyone. Everyone has a place here. But some of the girls, they're younger; at the beginning of New York Fashion Week, they talked to me, but after New York, they didn't talk to me anymore. I was like, "Okay, I'm not 16 anymore. I don't want that, I don't care about it. I'm going to do my job and that's it." 
How did you decompress post-Fashion Week?
I didn't have time to relax, actually. I worked straight away after the shows. I had, like, a few days in Paris. I was just going back to my normal life, going to the supermarket, doing my laundry, watching TV, spending some time with my boyfriend, that's it.
What does your family make of your newfound success?
My mom is really happy for me because I'm happy. She doesn't understand what it means for me, all these shows, but she's happy. The only thing is that she saw me on French TV and she was like, "You need to sleep! You need to eat! You look so tired and skinny!" But, she's my mom. My boyfriend was so nice during the shows. Even when I was in New York, he would stay up all night to watch the shows online.
What's your diet like?
I'm French. I'm crazy about cheese, bread, charcuterie, all those croissants, and stuff. I think I'm lucky. I eat what I want to eat. If it makes me feel happy, I never feel guilty so I think that's why I'm in shape, you know?

What about books? Any good ones you read lately?
I really love Amélie Nothomb. My favorite one by her is Hygiène de l'assassin. When I read the first page, I was hooked. You can feel she's a little bit crazy. She was anorexic and had some trouble with men. She's a really good writer and I love it.
James Scully told us you reminded him of Raquel Zimmermann.
Everyone is calling me "Baby Raquel." This season, everyone was like, "Oh, you're baby Raquel."  But it's a really good compliment for me; I'm really happy about it because I love her.  She's beautiful, and I hear she's nice, too.

Tell us a secret.
I'm 23 and I still sleep with my Winnie the Pooh, okay?
What is something that you have in Cannes that you cannot find in New York, Paris, or Milan?
First of all, the beach! Just living, growing up by the beach is something really special. I didn't realize it when I was there but now I know how nice it is. It's quiet and you can go swim and I don't know, you don't feel the pollution.
Guilty pleasure?
I'm crazy about cheesecake. I've been to Magnolia Bakery. Oh my god, that is the best for me! And I love the chocolate pizza at Max Brenner.
What is the best advice you've received on modeling?
When I started and I was really shy, everyone tried to change me. They told me, "You have to be crazy, you have to be mean. You have to scream."  I was like, "I'm not going to do that. I'm not like that and I'm not going to change my personality."  And now I'm really happy because some people, they were like, "You just have to be yourself.  Don't lie about your age.  If you're a nice person, be a nice person."  This is the best advice. I feel good about that. I can be myself and work a lot.
Model Profile: Julia Frauche
Explore other rising stars (plus all the big names) in our extensive Model Manual, featuring runway pics, glamorous editorials, model bios, career timelines, and more.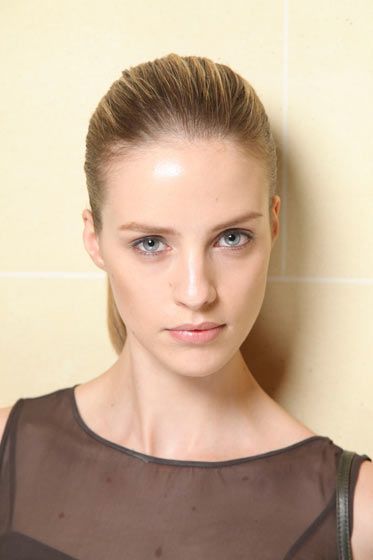 Backstage beauty shot at Balmain's spring 2012 show in Paris.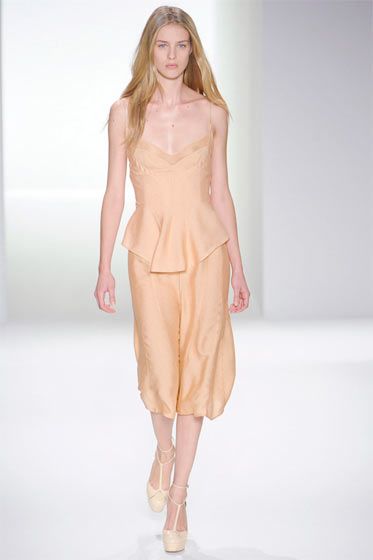 Walking the spring 2012 Calvin Klein show in New York.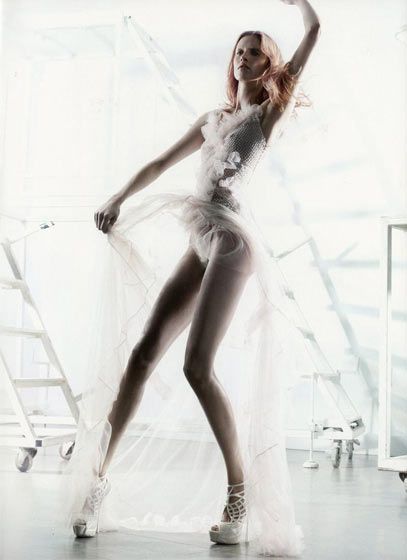 In a Numéro editorial, November 2011. Photographed by Liz Collins.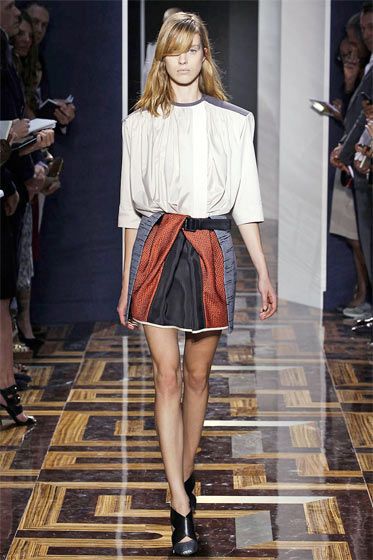 Walking the spring 2012 Balenciaga show in Paris.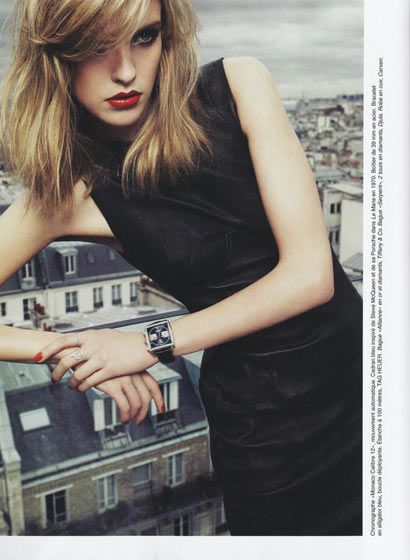 In a French Vogue editorial, December 2011. Photographed by Claudia Knoepfel and Stefan Indlekofer.