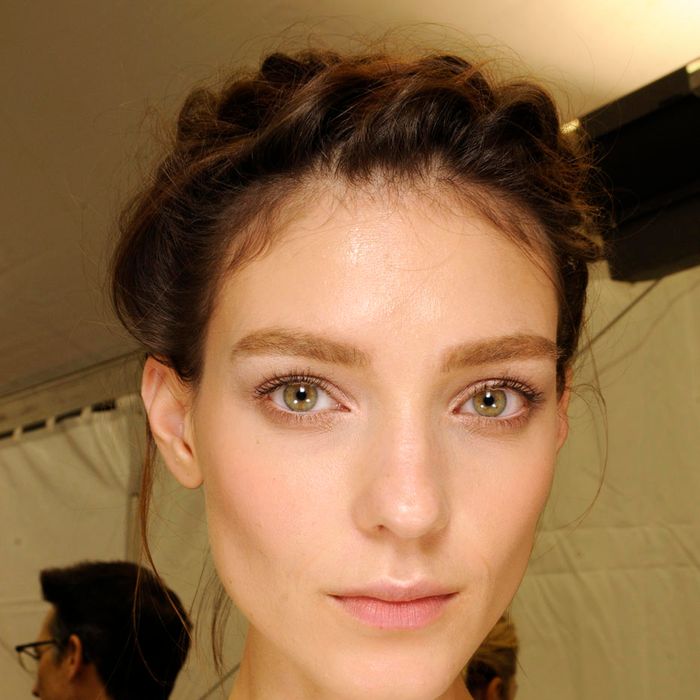 At the age of 27, model Kati Nescher is no sprightly, spring chicken … at least in industry terms. But the Russian-born, German-raised Nescher offers something her prepubescent modeling peers often lack: life experience. Represented by DNA Models, the model-mother (she has a son, Theo, who will be 2 years old in January) was spring 2012's silent threat. With virtually no preseason buzz, Nescher scored Marni's spring 2012 opening and closing looks, and also appeared in shows for Prada and Jil Sander in Milan. But it was in Paris where Nescher's chameleon-like ability was put on full display, walking for everyone from Alexander McQueen to Givenchy to Louis Vuitton to Yves Saint Laurent. We met with Nescher last week between an editorial and campaign shoot to talk about working alongside Kate Moss and Gisele Bündchen, her favorite books, and how she feels about kick-starting her career when a lot of models are thinking about retirement plans.

Tell me a little bit about your childhood.
I was born in Russia, but moved to Germany in my teens. I have a brother who's three years younger than me and he lives in St. Petersburg. As a child, I was kind of funny. My mother wanted to do so many things with me: dancing, singing, painting … everything, you know? I did ballet for a few years when I wanted to be an actress/singer instead.
How did you get discovered?
That's a really nice story. I had heard of this agent in Germany because she was very successful at launching models. She has just six or seven girls, but everyone is really successful. I was interested in her because, you know, I'm not 16, I'm 27. I never had a good experience in this business when I was younger. I would try to model locally in Germany before, but things never really worked out how I imagined. You can get lost in this business. Luckily, I had already studied at university and had my son. I think it's about being at the right place at the right time with the right people.

What was your profession before modeling?
I was a Russian/German translator. I also did some event management for a year.

How did you get back into modeling?
I know some makeup artists in Munich and they would say to me every time, "Why don't you try it again?" So seven months ago, I called that agent and said, "I want to try it again." She saw just one picture of me and said to me, "Come to Cologne to meet with me." I got set up with Viva Models and then it was just step-by-step, but it all happened really quickly.

Does it bother you that you're starting out at 27 and not, say, 15, like most models working today?
For me it's not about age, it's about personality. It's just a number; a good model is a good model.  People I've worked with have commented that they liked the fact that I was older. I know how I was at 16 and it's difficult to think that I would have been able to model — to be alone, and to travel a lot. I met a lot of nice girls at the fashion shows, though. Of course, sometimes they're children, but it's nice to just meet with them and talk with them when they're feeling a little sad or in pain.

Pain?
Like, from the shoes. I think it's about a community, too, working in fashion.

What sort of personality does one need to have to be a successful model?
I think in this business, it's really important to be open, friendly, and able to concentrate well. And to try to be yourself. Also, don't forget it's a lot of work around you.  Everyone around you — the designers, makeup artists, hair stylists, and nail artists — are all really important, too. And you should know what you're doing and just be knowledgeable, able to take direction from photographers and stylists and understand what they mean.

You walked alongside Kate Moss at Louis Vuitton and Gisele at Givenchy.
Kate came in a bit later than everyone else, which was fine, being that she's Kate Moss. She was speaking with the makeup artist and Marc [Jacobs] all the time. She seemed like a nice person, though maybe a bit reserved. As for Gisele, when she came in with Pat McGrath, she was all like, "Hiiii! I'm here!" It was interesting seeing two big top models with their different personalities.

Read anything good lately?
I recently finished with the classic, Steppenwolf by Hermann Hesse. Currently, I'm reading The Master and Margarita by Mikhail Bulgakov. It's kind of a really special book in Russia because it was really not available for the Russian people to read at the time of the twenties and thirties, and so it's interesting to read about that time.
What is your fitness regimen like?
I like to swim and jog. I prefer the sea, but a swimming pool is good enough. And of course, running everywhere with my child, playing and riding a bicycle.

How is it juggling motherhood and modeling?
I really enjoy modeling, but, of course, it's hard when you're not with your child. He's turning 2 in January, so I'm hoping soon I'll be able to bring him with me on my travels. Maybe not to every shoot and definitely not to Fashion Week, but if it's possible, I'll do it. 

What was the last thing you bought?
Yesterday, I bought really small, nice Puma shoes for my son.

What is your least favorite feature about yourself?
Sometimes, I'm lazy. Like, "I'm gonna stay in bed today" type of lazy.

What is your favorite meal to eat?
Good, fresh salad with grilled shrimp. And brownies, sometimes. [Laughs.] Since I've been in New York, I've been drinking hot chocolate with Nutella every day. I'm crazy about it.

Thoughts on New York?
I like this crazy energy.  I mean, I don't know if I can live here, but I think it's really good to come here, to spend time, to work with really interesting people and then go back home. I hope I can see a little bit more next time.

What scares you?
The media on TV. I'm not sure if I can trust what I see 100 percent.

If you could meet anyone dead or alive, whom would you like to meet?
This is an interesting pairing, but Audrey Hepburn and Kurt Cobain.

What's the one thing you have in your hometown that you cannot find in New York, Milan, or Paris?
Actually, yesterday, I tried to buy my contact lenses.  But I didn't get them because it's too complicated in America. Also, fresh German beer!

We hear you recently shot with Juergen Teller.
Working with Juergen was great. He speaks German, so, you know, we could talk freely. He was easy to work with. He saw me and said, "Oh, cool, I like your hair so just put the glasses on and [take] your clothes off and go into the light and let's do some pictures."  I was like, "I like you, Juergen."

Model Profile: Kati Nescher
Explore other rising stars (plus all the big names) in our extensive Model Manual, featuring runway pics, glamorous editorials, model bios, career timelines, and more.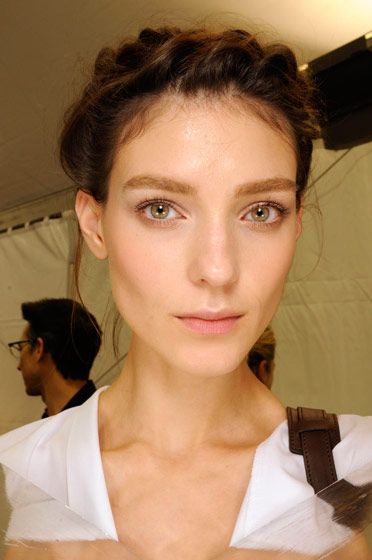 Backstage beauty shot at the spring 2012 Valentino show in Paris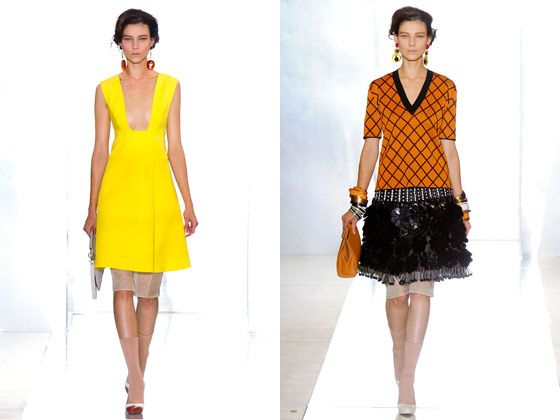 Opening (left) and closing (right) the spring 2012 Marni show in Milan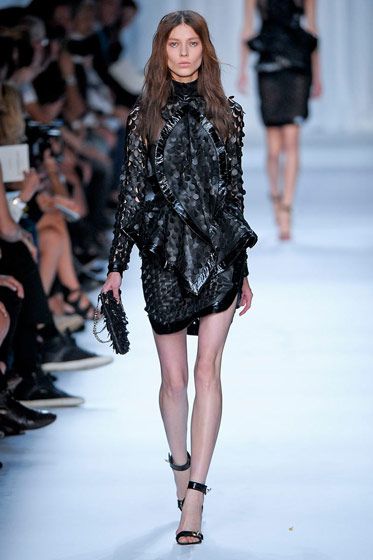 Walking the spring 2012 Givenchy show in Paris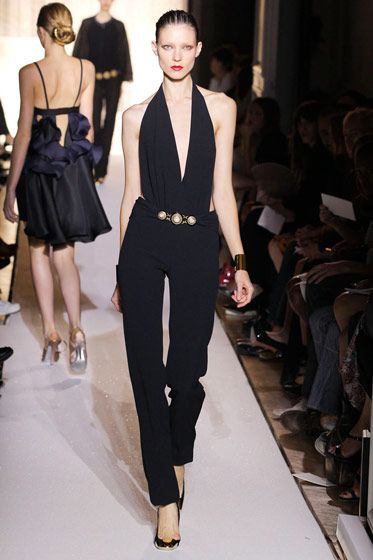 Walking the spring 2012 Yves Saint Laurent show in Paris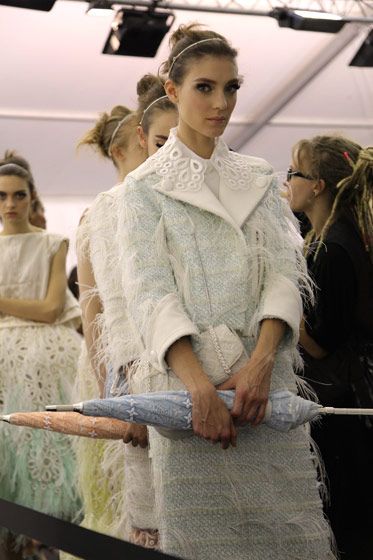 Backstage at the spring 2012 Louis Vuitton show in Paris