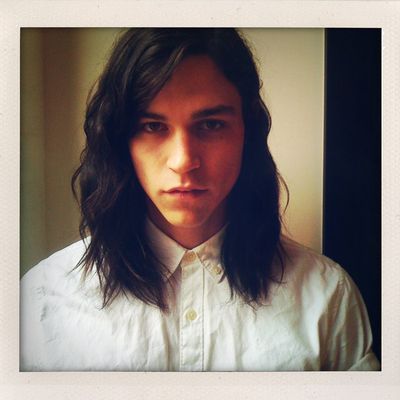 Courtesy of DNA Models
Photo: Courtesy of DNA Models
Miles McMillan never planned to be a model. Instead, the 21-year-old California-native aspired to become a painter. But two years ago, while earning a degree in studio art at New York University, he was scouted on the street.  He didn't think much of it at first, but later on, while his friends were all busy trying to find jobs, McMillan decided to give it a shot. Represented by DNA Models, McMillan walked the spring 2012 menswear shows for Alexander McQueen, Dior Homme, Rick Owens, and Lanvin in Paris. Editorially, he's done quite well, too, shooting with the likes of Daniel Jackson for H&M, Richard Burbridge for V Man, and Jack Pierson for AnOther Man magazine. We sat down with McMillan recently to talk about his favorite painters, his love of reality TV, and the chaos that went on at the Versace for H&M show.
Tell us a bit about your childhood.
I was born in La Jolla, California. [I have a] good family with a sister who's nine years older than me. My dad is a developer and my mom is a psychologist. I was always artsy — always drawing, always painting. I was pretty quiet. Actually, I'm still kind of quiet. I preferred to play by myself than with anyone else. But I played with other people, too … when I had to [Laughs]. My parents were like, "Why don't you have friends over?"
How were you discovered?
Four years ago, I came to New York to study studio art at NYU. Around two years ago, someone wanted to shoot me on the street for Urban Outfitters, so I did that. But I wasn't really interested in modeling because school was always my priority. I got into modeling more during my senior year, so I signed with an agency.
What prompted you to start modeling?
Towards the end of my college career, everyone started to think of what they wanted to do, and I thought this could lead to other things – and help with my art. Now that I've graduated, I've been traveling ever since.
What's your medium of choice?
Painting, mostly. But I like to draw and watercolor, too. I was painting women for a long time, usually fashion-based.
Favorite painters?
Richard Prince, Richard Phillips, and Mel Ramos. Also,  Lucian Freud and Francis Bacon.
Right, the staples. When do you have the time to paint?
Well, I mostly do oils, so it's kind of hard to do those because it's a time commitment. Lately, I do mostly sketching and drawing as much as I can. I try to do smaller works that don't take too much time.
Fair enough. Your booker told us you were the most booked male model from their board this past runway season. What was the craziest thing you saw backstage?
The Dior show was pretty crazy. The day before we had, like, a four-hour rehearsal, and the next day we had to be there five hours [before the show]. The Versace for H&M show was pretty crazy, too. Donatella with all her bodyguards, Prince with all his bodyguards, and Nicki Minaj. There were a lot of bodyguards. They were like, "Excuse me!" I was like, "I'm sorry, I'm getting in your way."
You recently shot with Jack Pierson for AnOther Man magazine.
Yeah. He was actually a teacher of mine at NYU. My professor, Maureen Gallace, was friends with Jack so she got him to teach a class. He was amazing. And then I graduated and I heard I was going to maybe shoot with him. 
Tell us about the shoot.
It was shot in his apartment in the West Village, which was pretty amazing. A crazy apartment with a Picasso sketch on the wall [Laughs]. It was good. We'd known each other, so it was much more comfortable. He's quiet, but eccentric and really funny.
What was the last thing you read?
I just picked up The Rum Diary. I started reading it on the plane the other day. I fell asleep.
Do you watch what you eat?
Sometimes. I don't really watch it that much. I think I'd like to watch it more than I do. I always order Thai. I eat a lot of sushi — Japanese is my favorite. That seems kind of okay to eat. It's fish, it's all protein. But I don't really worry about it too much. I don't drink soda anymore.
What about your fitness? Do you work out?
My gym actually just e-mailed me the other day saying I haven't been there in a while. I should go soon. I try to go at least two times a week, if not more.
What's something you dislike about yourself?
Sometimes, I'm too shy, but I try not to [be]. I've come out of my shell a lot.
What scares you?
I hate spiders. I have severe arachnophobia. Have you seen that movie?
No, I must have missed that one. If you could meet anyone dead or alive, who would you like to meet?
I've met a lot of people who I've wanted to meet. Mickey Rourke was the first celebrity I met in New York. It was pretty amazing.
What are some of the key differences between male and female modeling, from your perspective?
It's much more serious for the girls, I think, because they make so much more money. And it actually can be a real life career for them. Whereas for male models, I think we look at it as a way to get into something else that we want to do. Also, I think we're more friendly and carefree. We don't really care what we eat, or what we're seen wearing. It's less serious, I think.  We can have more fun with it.
You're about to be stranded on an island, and you can bring one person and one thing.
I would bring a TV, and someone who I would want to watch TV with.
Guilty pleasure?
Le Pain Quotidien. There's this praline spread that's so good. That, and watching TV. It's a big problem.
So what are you watching on TV?
I like reality TV. I watch The Real Housewives, Keeping Up with the Kardashians, South Park, and Family Guy. Not too deep. And then Curb Your Enthusiasm is also my favorite.
Place you'd love to travel?
I'd really like to go to Asia because I've never been, like to Cambodia and Vietnam.
What is your idea of happiness?
Doing what I like, and enjoying who I'm with. I'm a very simple guy.
Model Profile: Miles McMillan
Explore other rising stars (plus all the big names) in our extensive Model Manual, featuring runway pics, glamorous editorials, model bios, career timelines, and more.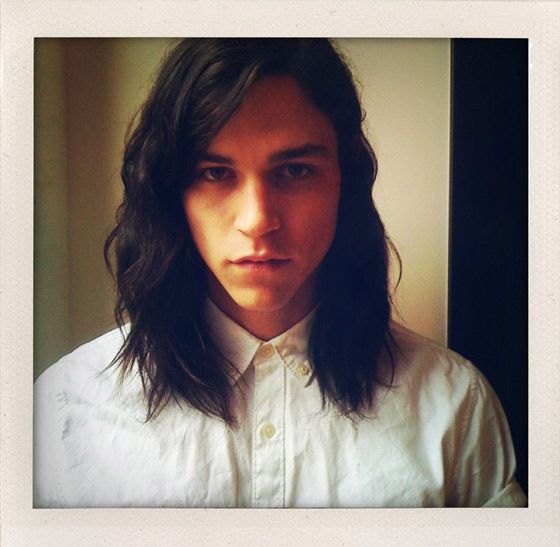 Head shot, 2011.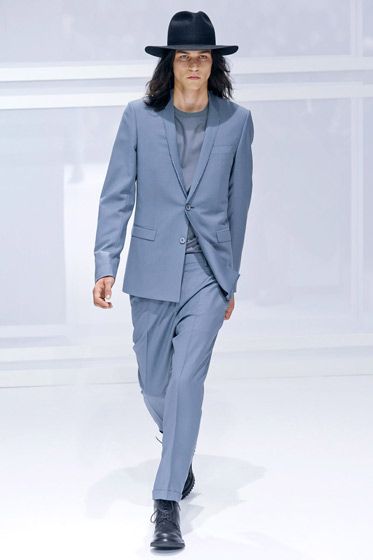 Walking the spring 2012 Dior Homme show in Paris.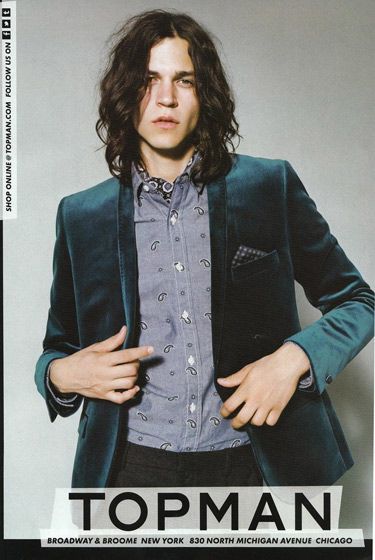 The face of Topman, winter 2011.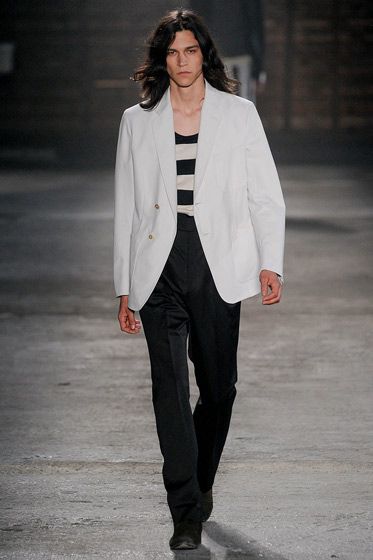 Walking the spring 2012 Alexander McQueen show in Paris.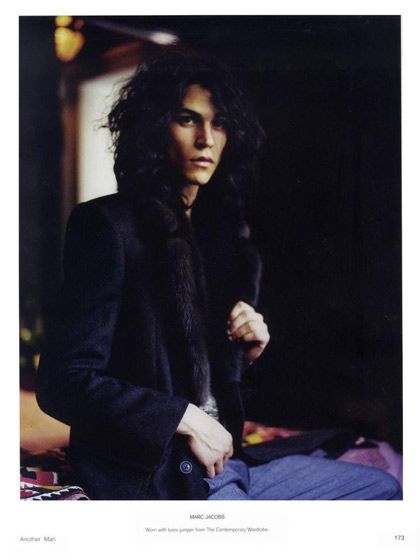 In the fall 2011 issue of AnOther Man magazine. Shot by Jack Pierson.