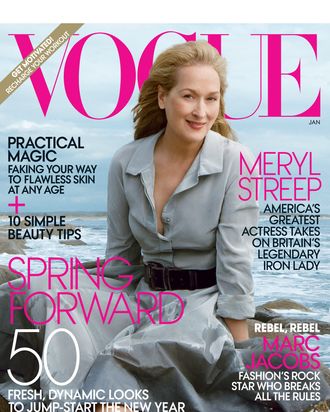 Meryl Streep covers 'Vogue' January 2012.
Shot by Annie Leibovitz amid frothy waves on a rocky beach, Meryl Streep covers Vogue's January 2012 issue. At 62, Meryl represents the magazine's oldest cover star under Anna Wintour's editorship — and possibly the oldest in its now 110-plus-year history. There's no doubt Meryl is a cover-worthy figure, and while there are jokes about it in the accompanying profile, the difference between her age and that of other women shot for recent Vogue covers is significant. Thanks to some stats-themed detective work, we know that from January 2000's issue onward the average age of the lady/ladies on Vogue's front page comes in at only 30.3 years old, with the median falling at an even 30. (The models who appeared frequently in the early aughts — including Gisele, Carmen Kass, Karolina Kurkova, and Angela Lindvall — skew the average a little higher.)
Other than Meryl, the only women over the age of 50 to grace one of Wintour's Vogue covers have been then-59-year-old Priscilla Presley in 2004's August issue, photographed with daughter Lisa Marie and granddaughter Riley, and Hillary Clinton in 1998's December issue. Women in their 40s appear more often, with Sarah Jessica Parker, Halle Berry, Nicole Kidman, Julianne Moore, and Sandra Bullock all popping up regularly. (Michelle Obama also covered Vogue's March 2009 issue at 45 years old; Madonna covered the August 2005 issue at age 47.) Incidentally, in the same time frame, aside from the aforementioned cast of rotating models, the only celebrity to cover the magazine prior to her 20th birthday is Britney Spears, who was still only 19 (just) when her November 2001 issue hit newsstands. Of course, between the two of them, Meryl's probably more likely to book another cover in the future.