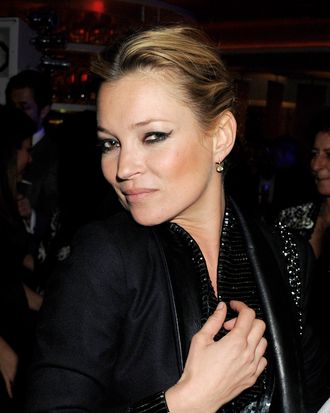 Kate Moss, who may or may not be related to this unfortunate story.
Photo: Dave M. Benett/2011 Dave M. Benett
Fashionista ran a series of anonymous intern "horror stories" last week, as a response to the news that the British government is cracking down on unpaid hard labor in fashion houses. The first story came from an intern tasked with cleaning a white suit returned from a fashion shoot stained with urine:
"My first fashion internship was in the PR department for a beloved British designer. One of her best friends, a well known supermodel, was fronting her spring campaign. I thought getting the designer, the model and the famous photog to St. Barth's on the same plane on the same day for the same 12 hours was a nightmare, but then the clothes came back post-shoot. Turns out the model, who was in the midst of a drug scandal, couldn't quite hold it together and the white sample suit was soaked in pee."
Gawker writer Maureen O'Connor took the clues (British designer, supermodel, shoot in St. Barth's) and did some sleuthing. Her results, while of course not confirmed by anyone official who would know, suggest the incident happened at a shoot for a Stella McCartney campaign starring Kate Moss. O'Connor's evidence includes an archived 2005 WWD article stating that McCartney's spring 2006 campaign shoot would happen in St. Barth's, and an image from the campaign with, yes, Moss wearing a white suit.