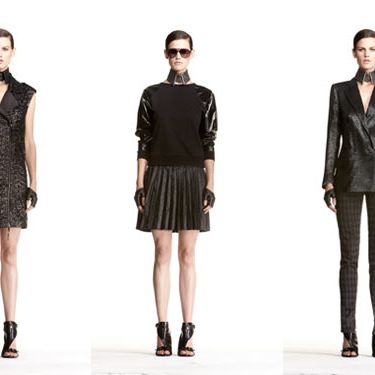 Three looks from Karl's forthcoming collection.
Net-a-Porter has kicked off its campaign for the debut of Karl Lagerfeld's KARL label, which is heavy on replacing Cs with Ks (so novel) and apparently revolves around a fictional plot line that the collection, along with Karl himself, have gone missing. Net-a-Porter's online video about Karl's "disappearance" is scarce on details and punctuated with lots of fake static —  so retro! — because they're just being silly, of course, as Karl obviously isn't missing at all. What's more, Net-a-Porter perhaps doesn't want to make too much ballyhoo about the collection's theft, since burglaries of that nature might be a sore subject. 
In addition to encouraging customers to join "Karl's Kult," a social networking group that provides Net-a-Porter's updates on Karl's "whereabouts," Net-a-Porter is offering a "Karlify" option on their website. This entails uploading a picture of yourself to Net-a-Porter, were it's then treated with a white wig, sunglasses, and a high white collar. This would seem anticlimactic except for the awesome fact that Karl himself will apparently choose his favorite "Karlified" image on January 25, when the collection drops. 
Earlier: First Looks: More Karl Lagerfeld for Net-a-Porter Photos