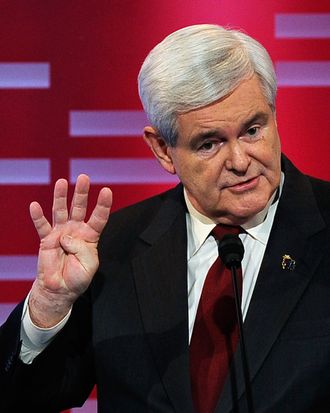 Newt.
Photo: Kevork Djansezian/Getty Images
Last month, Newt Gingrich spoke at Harvard's John F. Kennedy School of Government, where he said: "It's tragic what we do in the poorest neighborhoods, entrapping children, in, first of all, child laws, which are truly stupid." Apparel executives, who believe very much in child labor laws and do not want the public to think they employ children in cruel sweatshops, are not happy with his comments, reports WWD:
"This is a particularly sensitive issue because it involves children," said Kevin Burke, president and chief executive officer of the American Apparel & Footwear Association. "We as an industry are sensitive to child labor and other industries are as well. We try to set an example in the U.S. for partners around the world to follow their own laws. When you have a candidate for president advocating relaxation in those laws, it calls into question the commitment. I hope the Speaker clarifies his remarks at some point."
Burke is not the only one to express dismay at Gingrich's statement. "Mr. Gingrich's comments, made in a seemingly offhanded manner that then required additional clarification, indicate how little appreciation he has for child welfare policy debates, not to mention international norms," said Judy Gearhart, executive director of the International Labor Rights Forum. WWD also spoke to Steven Jesseph, the president and CEO of WRAP, "a non-profit organization dedicated to the certification of lawful, humane and ethical manufacturing throughout the world working with many apparel factories and retailers." Jesseph noted that while Gingrich suggested kids get put to work as school janitors (in the place of unionized employees), some schools already have programs for kids to do various jobs at school, like working in the nurse's office. 
Gingrich did make an attempt to clarify his comments at the Iowa debate about school janitors over the weekend, but did not try to elaborate on his views about child labor laws.
"What I suggested, was kids ought to be allowed to work part-time in school, particularly in the poorest neighborhoods … because they can use the money. If you take one-half of the New York janitors that are unionized and are paid more than the teachers … you could give lots of poor kids a work experience in the cafeteria, in the school library and in the front office, a lot of different things."
The fashion industry is blatantly left-leaning anyway, so even without this flub, Gingrich wasn't likely to have their endorsement.