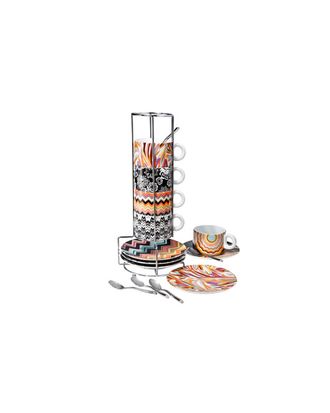 The elusive espresso set.
Good news for all you disgruntled customers who thought your Missoni for Target orders had been canceled: you might be getting them after all, and now they might be free! A source tells us that his order (the Missoni for Target espresso set, if you must know) has just shipped, according to this e-mail he received from Target:
Thank you for your patience and continued support with regard to your Missoni for Target order.  Your Missoni item(s) have now shipped and we want to let you know that you will not be invoiced for the item(s) listed below.

If you do not wish to keep the below item(s) please donate them to a local charity or shelter of your choice rather than returning them to Target.
Our source was informed months ago that this very same order had been canceled and, in addition to a full refund, he received gift certificates from Target for his trouble. So basically, Target paid him for his (albeit very late) Missoni order, not the other way around.  In other news, it's unlikely that any unwanted items will go to charity — the aforementioned espresso set, originally $39.99, is currently selling for $75 to $250 on eBay.
Related: Target Informs Customers Some Missoni Orders Will Have to Be Canceled