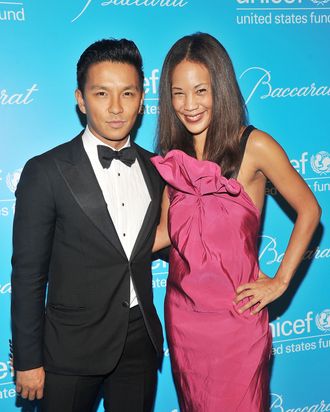 Prabal Gurung with Maggie Betts.
Photo: Stephen Lovekin/Getty Images
Prabal Gurung has been named chief designer at International Concept Brand (ICB), which you may have never heard of because it hasn't been sold in the U.S. for almost ten years. (Googling "ICB" turns up more than we ever wanted to know about the Institute of Certified Bankers, but nothing about clothes.) During its heyday in the mid-to-late nineties, the collection was helmed by Michael Kors and later by Viktor & Rolf's Viktor Horsting and Rolf Snoeren. But the label floundered in the early aughts and its distribution company, Japanese retail group Onward Kashiyama Co., discontinued its sales in the U.S. in 2002. Now Onward Kashimaya wants to revamp the brand with Gurung as its front man, which also gives Gurung the chance to build an international reputation for himself (the label is still widely distributed in Asia). ICB will make its re-entry to the states in fall 2012 and hit Europe in 2013.