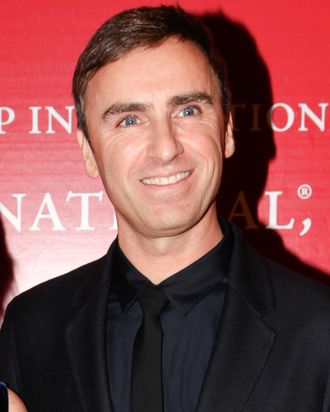 Raf Simons. Yay!
Photo: Alexa Hoyer/PatrickMcMullan.com
Jil Sander designer Raf Simons called his spring 2012 show "the last in my couture trilogy." He was referring to how couture shapes and techniques had informed his last three three women's collections, and if the reports in today's WWD come to fruition, those collections will take on much greater significance than simply the critical acclaim those shows earned. Sources tell the paper Dior is close to a deal with Simons to replace designer John Galliano, who was arrested and subsequently fired from Dior following an anti-Semitic outburst at a Paris café almost a year ago.
Simons, who has turned Sander into one of the most desirable labels in the market today, certainly has the industry's support. Though his clean, minimal aesthetic hovers at the other end of the spectrum from Galliano's flare for costume, fashion people are unlikely to doubt his fit for Dior, and not just because they love him so much. The designer himself said in 2008 that aesthetic evolution must be part of his journey at Sander: "I knew in the long run I couldn't only think about minimalism and purism." Times critic Cathy Horyn, a known Simons fan, calls his Sander collections "directional," and him a "logical choice" for Dior. 
Horyn continues:
The Galliano era, which paralleled the giddy rise of luxury groups like L.V.M.H., generated buzz for the house, but that style now seems a little stuck in the past. Also, companies like Chanel — long Dior's rival — and Prada have captured people's attention with a variety of day clothes and intriguing shows. About four years ago, Mr. Galliano and his team received a directive from Bernard Arnault, the chairman of L.V.M.H., to design more suits and other day wear. Mr. Galliano's ready-to-wear collections just didn't have impact, though Dior certainly sells a lot of clothes.
Apparently Simons has been a person of interest for some time to LVMH, who had their eye on him when Michael Kors left Celine in 2004. Sources also tell WWD that Yves Saint Laurent was interested in Simons as a possible replacement for Stefano Pilati, whose contract expires in March and, the paper adds, has not been renewed.
If the Simons deal goes through (and it must be a somewhat complex since his contract at Sander is thought to have recently been renewed for an unknown number of seasons), this will bring LVMH's long song-and-dance with the industry's very best designers to a much anticipated and thankful end. Nearly a year ago, everyone with a cell phone and a Twitter account was convinced Givenchy's Riccardo Tisci had the job. The ball went on to bounce into the courts of everyone from Sarah Burton to Azzedine Alaïa to Marc Jacobs to Alexander Wang. And remember how Jacobs seemed like the surest one of all of them?
If Simons does go to Dior, he won't have time to do the couture collection scheduled to walk in January, or the ready-to-wear one showing in March, so we'll have to wait a few more months to see what he does with himself over there. Dior seemed conflicted enough about the appointment not to ever have a very clear top pick, but at this point, even Carine Roitfeld has pointed out, "There have been so many names floating around now that they might know that they weren't the first choice."  Then again, who cares? It's DIOR.