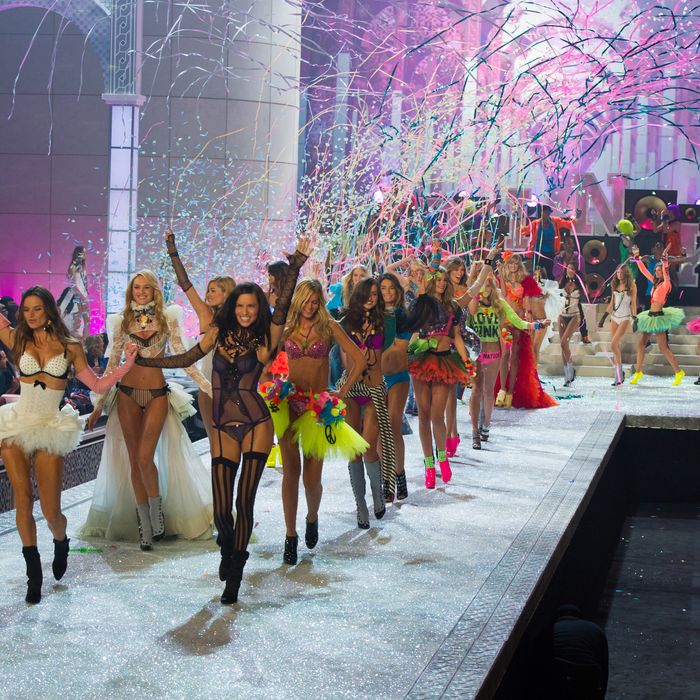 The 2011 Victoria's Secret fashion show.
Photo: Michael Stewart/Getty Images
A new report by Bloomberg News shows that cotton used in Victoria's Secret underwear — described on labels as "fair trade" and "Good for women. Good for the children who depend on them" — was actually picked by abused, unpaid children in Burkina Faso. While it's unclear if Victoria's Secret actually knew that their cotton suppliers weren't meeting labor standards, many plantations in the country are known to exploit underage workers. VS claims that they never saw a study published in 2008 by one of their partners, the National Federation of Burkina Cotton Producers, suggesting that thousands of children — mainly those in foster care — were forced to work on the fair-trade farms in the area.
Bloomberg reports:
Fair-trade farmers told researchers they didn't pay the kids, leading the study's authors to write, "This category of children is a problem on several levels: in terms of their social vulnerability on the one hand, and in terms of their status at work on the other. These foster children have an employee status: they are clearly asked to work, as expressed in the words of the producers, but they receive no remuneration, regardless of age."
On a quasi-positive note, the cotton grown there was indeed, as VS labels claim, pesticide-free and "100 percent rain-fed." Tammy Roberts Myers, an executive at VS's parent company Limited Brands Inc., released a statement saying that they're taking the child labor allegations very seriously.
They describe behavior contrary to our company's values and the code of labor and sourcing standards we require all of our suppliers to meet … Our standards specifically prohibit child labor… We are vigorously engaging with stakeholders to fully investigate this matter.
VS has been sourcing cotton from Burkina Faso since 2007 and, in 2009, marketed a special line of underwear just before Valentine's day that boasted about the cotton's origins, as well as how purchases would improve the lives of Burkinabé cotton pickers. Fairtrade International is currently reviewing its certification of farms in the area.