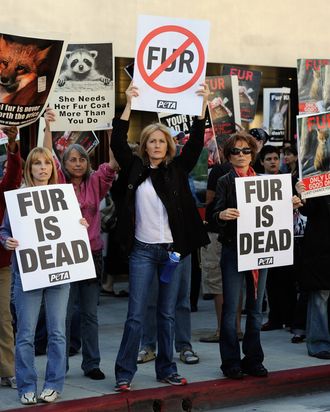 Fur protesters in Beverly Hills.
Photo: Kevork Djansezian/2011 Getty Images
According to a new ordinance passed on November 21, West Hollywood retailers will have to pull fur from their stores by September 2013. It's the first U.S. city to ban fur sales, but it probably won't be the last. An article in today's Times points out that West Hollywood has helped spark trends in animal rights law in previous cases: They were among the first cities to ban cat declawing, for instance. However, many local retailers continue to grumble about the ban, and some are even threatening to take their businesses elsewhere.
Reports the Times:
At the boutiques along Melrose Avenue, sales clerks scoffed at the idea that fur was falling out of fashion. One called the ban "ridiculous," another said it was "super annoying." Far from beginning to clear fur from their shelves, store owners are instead talking about clearing out of the city.

Lindsay Lebby, the director of Arcade, a multi-label boutique with only one store, said fur was essential to her shop's competitiveness, and she would consider a new address when her lease ended in March. The proprietors of the John Varvatos store have expressed a similar intention to move.
Many of these retailers hope to defeat the ban before it takes effect in two years; the West Hollywood–based Fur Information Council of America is planning to file a lawsuit against the city to have it overturned.