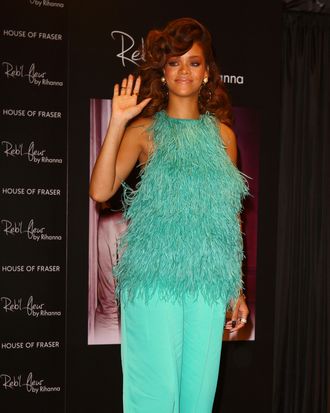 Rihanna
Photo: Neil Mockford/2011 Getty Images
That Dutch magazine Jackie printed a blatantly racist and insulting paragraph about Rihanna and her style is pretty astounding. The page would have had to be written, edited by someone else, edited again by someone else, copy edited, printed, and looked over by the editor-in-chief and a few more people a few more times before thousands of issues were actually printed. Well, Rihanna is rightly shocked, and she responded to the magazine and editor on Twitter.
@evajackie I hope u can read english, because your magazine is a poor representation of the evolution of human rights! I find you disrespectful, and rather desperate!! You ran out of legit, civilized information to print! There are 1000's of Dutch girls who would love to be recognized for their contributions to your country, you could have given them an article. Instead, u paid to print one degrading an entire race! That's your contribution to this world! To encourage segregation, to mislead the future leaders to act in the past! You put two words together,

@evajackie with the intent of abasement, that made no sense…"NIGGA BITCH"?!….Well with all respect, on behalf of my race, here are my two words for you…FUCK YOU!!!
Even for a girl who wears shoes that say "fuck off," her forceful reply is surprising, if warranted. Celebrities seldom respond so personally and strongly to things like this, going instead for a carefully constructed statement released by a spokesperson with far fewer exclamation points and about as much personality as a Barbie doll. Rihanna's at least one celebrity that seems to have good mastery of her own Twitter feed. Twelve hours later, and these tweets are still up for all her fans to rally behind.