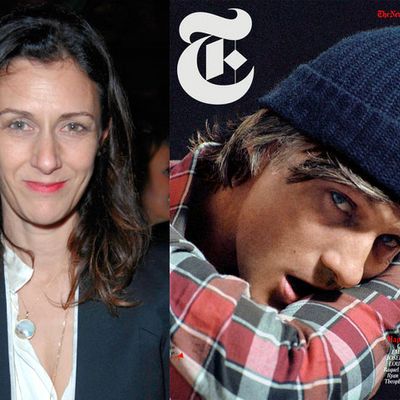 Sally Singer and her latest T cover.
Photo: Carlo Romero/PatrickMcMullan.com, T Magazine
To say that Sally Singer thinks about fashion would not do justice to her process as an editor. Her analysis of clothing and the world in which it exists is more cerebral than simply thoughtful. The new holiday issue of T: The New York Times Style Magazine is the sixteenth she's put out as editor-in-chief since leaving her position as fashion news and features director of Vogue, where she started working in 1999. Singer has imprinted her distinct point of view — "preoccupations," she says —  on the magazine, which regularly features the photography of Cass Bird and unexpected cover subjects, shot in unexpected ways, as you can see with the new Viggo Mortensen images. She might correct you if you call it "downtown cool," as I did when I chatted with her about the new issue and first year at T, the circus of Fashion Week street style, and the dress she got when she was 14 and still wears.
How did you settle on this photograph of Viggo for the cover?
Holiday is the only issue that is sort of a full service, luxury-style magazine. So it's the only issue in which it could be anything or anyone on the cover. I think, in the case of Viggo Mortensen, I've always thought he was a terrific actor, amazing actor, and not an overexposed one — and an interesting person as well because of his publishing interests and other interests. And then he had two films coming out when we assigned it: the Cronenberg coming out, in which he's playing Freud, and then On the Road coming out a bit later. I thought they were both very appropriate films for the New York Times and for T, and so it was a great time to see if we could get him. And it takes a while to get Viggo because he's very busy with his personal  projects, which can involve small films in Argentina or publishing. He's not someone who has to do publicity. It takes a lot to get him, so I was really happy to get him for this holiday cover.
How do you approach creating a magazine for that kind of audience? T feels like it has this downtown cool vibe.
I don't think there's an uptown-downtown distinction anymore at all, so I don't think there's anything that's actually downtown cool. But, no, I don't think of T as especially cool. I don't think it's downtown cool, whatever that expression stands for. I see T as having to reflect the interests and preoccupations of the Times reader. It comes in the Times and there should be some line drawn between the front page and T, soo anyone who gets their Times on Sunday or goes to the website feels that there's something in T that they can latch onto, too.
How do you go about conceiving the portraiture in the issues?
I do tend to photograph people — or maybe more, celebrate people — to look like themselves. I don't want to do the kind of portraiture that involves references to Old Hollywood, or taking people who are glamorous and making them more glamorous in obvious or iconic ways. I feel that that works better in other publications where you have to up the stakes on everything in creative fantasy. I don't think people come to the Times for fantasy. I think they come to the Times because the world is really interesting to them and they want to see the world looking beautiful but interesting. So I try to photograph people in a way that's true to how they would want to perceive themselves to be, as opposed to manipulating them into a construct, along the lines of what Vanity Fair does so well. Vanity Fair is about taking glamour from other places and ideas from other places. You go to them for that experience. But I think when you come to the Times, it's because you think the world is really interesting-looking and the people in it are really interesting-looking, and you just want them to look like themselves.
The photography in T doesn't look like what you see in many Condé Nast magazines.
I use photographers who work for Condé Nast, I do. I love Condé Nast magazines.
How do you choose your photographers?
I've always loved Cass Bird, so she shoots a lot for me. She's done this cover and the previous cover. I think that she has a way of collaborating with the subjects that's very sweet and true and reveals the best in both of them. We shoot a lot, in a very different tone, with Richard Burbridge in beauty because I like the clarity of his pictures and I like how he can push an image. I love using Angelo Pennetta for the travel issue with models because, again, there's a wonderful sense of collaboration. He takes a reportage, almost postcardlike approach to travel with a model. And then he does shoot girls looking happier and prettier — not sexier, but you know, cheekier maybe.
Do you feel like we're coming out of a very overtly sexy period for fashion photography?
I think what fashion photographers have been reckoning with is a kind of — it's not oversexed, I think it's over-manipulated. It's not even retouching, it's just digital. It's just being able to manipulate. I think we've come from a period in which digital has allowed an idea of perfection. The limits of film versus the vast Saharan desert of digital, I think, just has photographers are playing with notions of perfection and the kind of sterility that can result from that.
I don't think it's sexing it; I think it's the opposite. How do you make a picture that conveys life and drama when the photographer, instead of interacting with a subject on a shoot, is interacting with a computer screen? And if you have that much control over what you're shooting as a photographer or a stylist, how do you get a surprise? How do you move beyond what you thought you were going to get? Because every time you look at the screen, you know what you got and you're out. It's budgets, time — everything is such a get-it-and-then-get-out. Whereas with film, there was that moment when they developed it and they saw something that pushed way past where they thought they were going to go. Cass shoots film; I work with a lot of people who shoot film. But great photography is great photography; it wins out every time whether that's digital or film. You can't fetishize one over the other.
The unavoidable conversation in the digital age is about retouching, and just how much is appropriate.
I think you know it when you see it. Obviously,  if you're working in film you have different limits. There's lots of things that go into that, it's the budget for it, color correction. With what we do, it doesn't come up that much because, again, I'm not trying to do the most perfect picture of someone, I'm trying to do a picture of a person looking pretty much like themselves, and even with the models I would say the same.
Do you spend more time thinking about photography versus text or vice versa?
Oh, for me it's everything. I think about the captions! It's all one piece. And in fashion, there's just the clothes. Like, you have to know the clothes, and you have to tell stories about the clothes.
How do you know you're telling stories about clothing rather than just presenting them?
It's a wonder and a privilege to be able to think about [fashion]. And it has a kind of magic to it. Even people who read the Times that never thought about it should find some pleasure [in it]. I hope they see the Raquel Zimmermann story and think – oh God! Even if they can't wear the little white romper, it's so beautiful, the beach is so beautiful, she's so beautiful. You know, Raquel Zimmermann is an actual person from Brazil, who is wearing clothes that sold in the resort season. And there's an actual fashion to be made that season, it's not just, oh, the clothes are pretty. And it may or may not affect how someone thinks about dressing for day or evening if they're going to a place where you can wear that silhouette, which I thought there were really new silhouettes — kind of short, loose, slightly flowed away from the body. Romper, for lack of a better word— even if it was a skirt, it had that look. I haven't seen that in a while.
Any pieces you're eyeing from the upcoming seasons? Spring or resort?
I very much want to buy a pair of resort or holiday — the clothes that shipped in November/December, the most important season, by the way for retailers because it stays at full price until March — I want to buy a certain pair of Chanel shoes. They're not in yet, I checked. I check weekly. They're cream and they have an open thong-toe.
Do you wait list for certain things that you really want that are likely to be made in limited quantities?
I don't even know how to. I wouldn't be that organized to get on the waitlist, but if I decide that that's the shoe I want, that's the shoe that I want. And I know that I do want that shoe from resort.
Yeah, a lot of people who are very into fashion and want certain things make sure they're on the wait lists or pre-order things.
I don't think I want those things. I wear a lot of vintage clothes and even old clothes of mine, like from when I was a teenager — my own vintage vintage. I wore a vintage dress yesterday that was a dress that I bought when I was 14. From a vintage store. I mean you didn't call them vintage stores then, you just called them used clothing stores.
How do you know what to keep and what to discard?
You don't. But get rid of a lot and then you sort of do. You sort of know the clothes that defined who you were and still define who you are. And then the other things were you pretending to be someone else. The whole thing with fashion is that the proportions change — they just change a slight bit and then it all goes awry. I think it's the things that almost exaggerate those differences that are the ones we like. The coat I'm wearing today is Tom Ford for Gucci, and it's just massive, this heavy massive thing, and you know I haven't worn oversize in years, but about a year ago I thought, I just want to be swaddled in that big coat. But I probably held onto it because the fabric was very good and the scale of it was so big. And it has a weird kind of Japanese-y twist to it.
A lot of people cherish their Tom Ford for Gucci stuff.
I had quite a bit of it at one point when I lived in London and I got rid of everything except, weirdly, this coat, which in the collection I didn't actually like. I mean on the runway, when I saw it I didn't like it.
How would you describe your personal style?
It's better if someone else describes it.
Okay: simple? Minimal? Utilitarian?
I would say whimsical efficient.
That's definitely the most thoughtful answer I've ever gotten to that question.
I like very basic, basic, basic. I like ballet flats; I like shirts from Charvet. In some bizarre way I subscribe to a notion of utility. I mean, my jeans are Levi's. I like to wear posts [earrings], gold ones, from Tiffany's actually, I have like, from like — if you had your ears pierced before you even thought about fashion when you were very young, what would you put in your ears? I have gold balls and pearls, things that pre-date an interest in fashion.
How much attention do you pay to the street style blogs?  When we go to the shows now it's kind of become a circus of people taking pictures and trying to get their picture taken.
I look at how people put themselves together and how the kids put themselves together. It is actually fascinating to me. The particular circus around the shows is, to me, a bit of a comic mess at this point. I see people who I know have borrowed clothes, who are purposely dressing in ways to get photographed, but are not expressive of themselves or of the season or of anything. It's the same drive that has people doing reality TV, kind of personal branding, you know? And a desperate attempt for sort of quasi-celebrity. And I think it's adorable when it's really young people because I think, why not?
What do you mean by really young people?
Like 17 or 18. You know, you're a junior assistant and you've fought really hard to get a standing seat; you're not going to see a darn thing on that runway. Like, why not? It's like the joy and pleasure of self-representation. So go forth and get photographed . That's your day, that's your moment to be on a red carpet and do it, I totally adore it in the kids. And I adore it when they've made the things themselves and it's clearly their own little concoction. You know, driven in from God knows where or taken the subway in — I love that, I really love that. I think that's the dream that keeps fashion going, that's the whole point of it. But, I feel that when we're at the shows, we're there to work, and at a certain point, you should be true to your style, and if your style is recorded, great. But people know when they've been photographed. And I totally see why it's fascinating for people to look at how people in fashion dress. I just think people should, as much as possible, wear their own clothes, not borrow clothes to do it, and keep the truth of it somehow intact. Which is the way Bill Cunningham does it — he doesn't know who he's shooting, he's just shooting people on the street that he sees. It should be that. It should be that random.
How do you decide who to hire?
Well, I inherited my staff. I came to T with a staff in place, who are great. I mean I didn't redo the staff. A few people have left and I've replaced them. I don't know how I picked them. I guess I look for people who are obsessive about what their obsessed about, because I do like obsessive people. I like people who are interested in fashion or design or travel or books far more than anyone should be.  Where, even if they didn't work in it, at some point during the day, their brain clicks over to it. And who are interested in it beyond how it affects them. There are people who work in fashion because they look fashionable, but then there are people in fashion because, even if they had to spend the rest of their lives wearing only a pajama, they'd be thinking about what other people would be wearing.
Do you feel like, at T, you're doing things you've always wanted to do but never got the chance to?
I never felt like my wings were clipped at Vogue. I always thought that at Vogue I did everything that I wanted to do that was right for Vogue. This is different. I think at T, it's fun to work with men, to do men's stories. I think it's fun to push further into travel and design because the audience is so educated, the reader is so educated that they really want the glamorous celebrity feature side of it. And then they want information. They demand a level of expertise and rigor that they expect again from the front page to what we do, and I like that. I like that when you do a design story you can really do a design story, and when you do a travel story you can really do a travel story, and you can push the categories. You can't ever underestimate the intelligence of the Times reader, or their need for education and for  good writing, and their appreciation of it. And by the same token, their absolute appreciation for luxury and shopping. They want to see beautiful things, and they will buy beautiful things shown in the magazine. I mean, people who read the Times live with the Times, and it's important to them. It's not a frill, it's essential, and it's really nice to do something that people find essential.
How much is T a reflection of you?
I mean, is it a download of my brain? Sure. It should be.  A good magazine should be a download of the editor's brain.