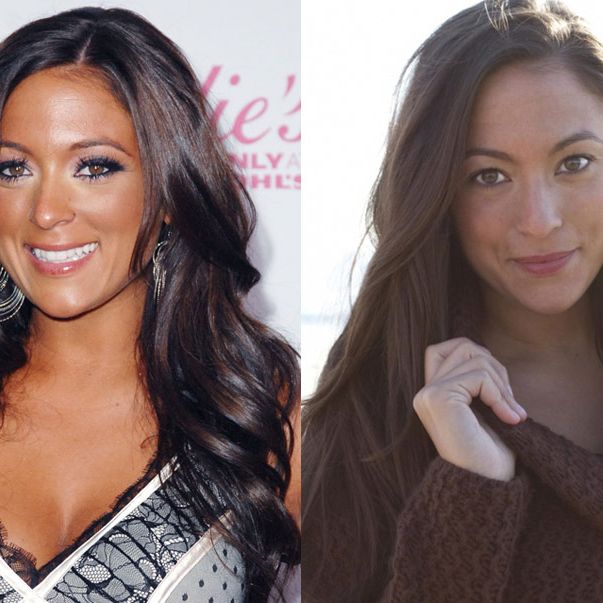 Sammi pre- and post-makeunder. (After shots by Lee Clower.)
When the makeover feels overdone, there's always the makeunder. Reserved almost exclusively for the most excessively tacky, it's a way to tell a girl you care about her, you just don't want to look at her the way she is now. In an interview with Sammi Giancola that accompanies photos of a very well-done makeunder, xoJane.com softens the blow that she needed one in the first place by offering lots of effusive praise for her and her fellow Jersey Shore stars in the accompanying interview. In exchange, Sammi spoke candidly about meeting Beyoncé and Lady Gaga, her new perfume called Dangerous, and, naturally, fake hair.
Tell me about your beauty routine on a full classic Jersey Shore night out. So I see you have your hair extensions …

I've done everything possible with hair extensions: I've done the clip-ons, I've done the weave where it's sewn into my head, I've done fused, and now I have tape-ins. I like these because it doesn't feel like a chunk. When you have your hair sewn in it feels like there's something on the back of your head and when you sleep you feel it. These [tape-ins] don't bother you, it doesn't affect you, it's less expensive, and you can do it every other month. I love it.
I love hair extensions.

I only have hair extensions because I feel like my hair is thin and I look like Pocahontas and I need some thickness and volume. Especially for the show — it's easier to maintain than my regular hair. So they're easy. I wash them regularly.
They did not discuss her penchant for dresses, shorts, and tops that cover as much surface area as a bathing suit, which is curious considering that the best part of the makeunder is the thick, brown, perhaps not even synthetic sweater. But hopefully she gave it right back to them, since we wouldn't watch the show if she and her castmates actually started to like that kind of stuff. In New York at least, there's nothing exotic about the "cool" ugly sweater.