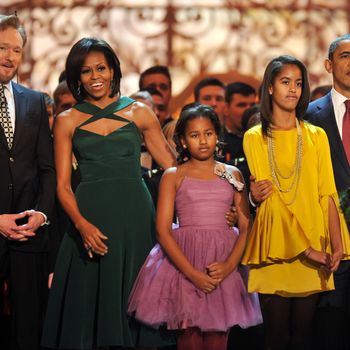 The Obamas with the event's host, Conan O'Brien.
Photo: Theo Wargo/WireImage
Over the weekend, the president, First Lady, and their children hung out with Justin Bieber. It was one of those rare photo ops not including animals or infants sure to earn resounding awws from its many postings around the Internet. The First Family was attending the annual "Christmas in Washington" concert, wearing their Sunday-evening best. For Barack Obama, this doesn't differ from his Monday, Tuesday, or any-other-day-of-the-week best, but for the other three ladies in his family, whose wardrobes noticeably vary day-to-day, the clothes were hard to overlook. And so there was much rejoicing by some members of the media, who seem to have either realized or decided that Michelle Obama is no longer the only First Family member destined to achieve style-icon status. Her daughters are, at least to this group of presidential-children watchers, well on their way.
The Huffington Post has no shortage of coverage of the concert, much of it focusing on how Michelle, Sasha, and Malia looked. The morning of the concert, the girls went to church with their parents in different outfits, which the site called "impossibly chic." In another post, they gush over Malia for wearing yellow that night:
Yellow has been popping up everywhere this season, so it was no surprise to see that Malia was dressed in the bold hue. The 13-year-old has been spotting in several fashion forward outfits lately and is quickly becoming one of our favorite style gals to watch.
These kinds of stories are certainly expected. The Obamas, when all together, do make a pretty portrait, not only because of how they look and dress but also because of the warmth evident in their interactions. Barack, photographed onstage clutching Malia to his side, plays the role of the endearingly protective father, and you could say the same of Michelle, standing on the stage next to them with her arm around Sasha. The wholesome, refreshing image possesses an appeal with a shade of similarity to that of the Middleton sisters, who have become sartorial sensations by dressing conservatively in simple sheath dresses, blazers, and, of all things unfashionable, nude stockings.
But Kate and Pippa are 29 and 28, respectively, well into their adult years. Sasha and Malia are just 10 and 13.
When the Obamas moved into the White House, they asked the press to keep a healthy distance from their girls and not photograph them when they were at school or soccer practice, or without their parents. Even though the press isn't stalking them at school, as the sisters do attend events with their parents and new photos of them emerge — like when Michelle took them with her to South Africa over the summer — the inevitable urge to call them fashion plates becomes harder and harder to suppress.
Malia is especially susceptible to this kind of attention since she's older, about five-foot-nine (something that's been turned into a news item in itself), and became a teenager this summer. It would be hard not to notice that she and her sister do dress quite nicely when they get photographed with their parents — a far cry from the jeans, fleece sweatshirts, and sneakers most kids wear as 12- or 13-year-olds. But paying so much attention to the way they dress at this stage of their lives is fraught with complications for them and the press who choose to go there. It's no wonder Barack has such a tight grip on his daughter in that photo.
We are in a strange time when a slew of actresses 15 years of age or younger who have become style stars seem to constantly redefine age-appropriate dressing for young teens and preteens. Hailee Steinfeld, who is now 15, became the face of Miu Miu at just 14 years old, having cemented her fashion credibility by earning copious praise for wearing a striped Prada dress that would have been difficult for most adults to pull off to the SAG awards this year. In her company is Chloe Moretz, 14, who regularly wears runway looks by the likes of Proenza Schouler, Stella McCartney, and Dolce & Gabbana. There's also Elle Fanning, who at 13 has appeared in a Marc by Marc Jacobs campaign, and counts among her favorite labels Chanel, Marc Jacobs, and Rodarte (at 12 years old, Fanning was Rodarte's muse).
But unlike Sasha and Malia, these young women are building careers around their fashion-forward image, probably angling for a spot in the same sphere of influence as someone like two-time Vogue cover girl and Chanel face Blake Lively. And even as they do that, their efforts to solidify a commitment to fashion feels strange at times, in the same way it feels strange when 15-year-old models snatch up so many slots in runway shows and ad campaigns for some of the world's most expensive labels, neither a new phenomenon nor debate. Do designers really think of clothes with three-, four-, or five-figure price tags as child's play? And what does their affinity for this age group say about the customers who want to buy their things?
Unlike these young actresses (and their mother Michelle, even), Sasha and Malia are not posing for fashion magazines or endorsing certain labels. They are not going around town in Chanel. And they would probably benefit from the press not placing too much emphasis on their image since being an involuntarily famous young woman these days, when no one can be the right weight or consistently wear enough of the right things, is hard enough as it is. After all, those who are praised will inevitably be criticized, and do we really want to set them up for that? Of course we'll coo over them when they meet the world's most famous pop stars, but holding them up as an example of how to wear the hot new color on the runways is simply unnecessary —  we have plenty of other famous people who, by choosing their roles in the public eye, volunteer for that kind of criticism.