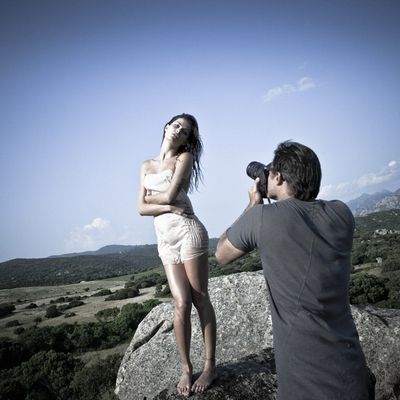 Mario Sorrenti shooting Isabeli Fontana.
Photo: Courtesy of Pirelli
The 2012 Pirelli calendar comes out today, and it'll be quite different from the Roman god–inspired shoot that Karl Lagerfeld did for 2011. Mario Sorrenti photographed this year's images, enlisting models like Saskia de Brauw, Lara Stone, Milla Jovovich, Isabeli Fontana, Kate Moss, Natasha Poly, and Malgosia Bela, who will of course be nude but, according to Sorrenti, will not look sexy. The photographer explains to WWD:
You know, originally I thought I was going to do very sexy pictures, and when we got there I realized that I didn't want the pictures to be sexy at all… I didn't want them to be posing and arching and like sticking their boobs in my face or anything like that.
The photos were taken outdoors in Corsica over the span of a week, with photos ranging from Milla Jovovich lying (unsexily, of course) on an upholstered couch under a tree and Malgosia Bela sitting (unsexily) on a sunlit rock. Sorrenti picked models he's worked with before so that he knew they'd feel comfortable getting naked in front of him, even though he admitted that it's always a little bit weird. "The most awkward is that first moment when you're completely taking your clothes off, and after that it gets a little easier," he tells WWD. The full calendar will be unveiled at a press conference in New York later today.