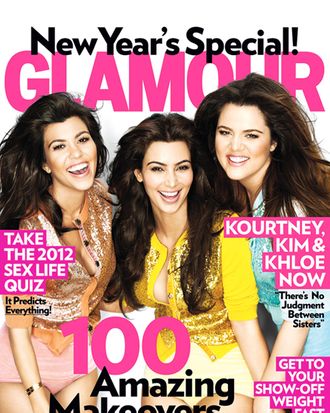 Glamour, turning over a new leaf in 2012.
Like most fashion magazines, Glamour took a significant hit in 2011, with ad pages dropping 7 percent and newsstand sales diving 17 percent as of the end of October. In hopes of preventing a repeat performance next year, editor-in-chief Cindi Leive says the magazine and its website will undergo a major revamp, including a redesign that'll be unveiled for the March issue. The publication's content will also get some tweaking; WWD reports that there will be increased coverage of pop culture, as well as some new columnists. 
It's clear that Leive is aiming for more overlap between the magazine's print format and its website. "The format of many women's magazines — Glamour included! — hasn't changed much for a decade, but young women are consuming media in totally different ways now," she told WWD. She's tapped two New York design firms to spearhead the redesign:
One is Actual Idea, a design firm run by Michael Angelo [Pangilinan],* the former art director of Nylon who art directed the most recent Esquire Big Black Book and designed Fast Company's Most Creative People iPad app. The other is Triboro Design, a firm that is run by a husband-and-wife duo of David Heasty and Stefanie Weigler. They're located off of McGolrick Park in Greenpoint, and clients have included BLK DNM. 
The magazine's new look will debut the same month that Harper's Bazaar reveals theirs; both publications likely chose March because it's the big spring fashion issue, and thus attractive to advertisers.
Related: Vogue's Newsstand Sales Are Up This Year, Unlike Nearly Every Other Fashion Magazine
Related: Harper's Bazaar Cut Down to Ten Issues a Year
* We've added Pangilinan's last name, which was missing from the original WWD article.