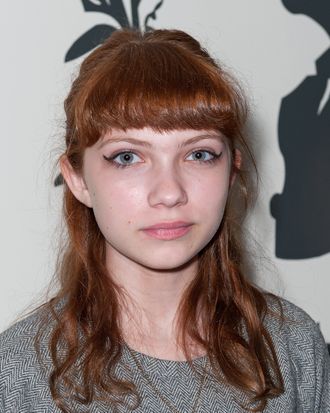 Tavi Gevinson.
Photo: D Dipasupil/2011 D Dipasupil
Tavi Gevinson's latest Rookie feature is a conversation with Chloë Sevigny. They talked about skater boys, suburbia, the trends ("not that I ever pay attention to that," says Sevigny) behind Chloë's new line for Opening Ceremony, and why swimwear was a particular challenge. Says Sevigny:
A lot of the time Humberto [Leon, of Opening Ceremony] convinces me to do stuff that I'm not really even that excited about. He's like, "Oh, you should do swimwear! We're doing swimwear now!"… [And] a lot of the time it can be a little frustrating the way things don't turn out the way you exactly want them to. Swimwear fabric is so difficult. I don't know if you wear swimsuits.

I don't swim! That's like athletic.

[Laughs] Even buying a swimsuit is super difficult. And then making one is even harder. So, yeah, this was kind of an Humberto thing. [The line] is a collaboration between him and I, and a lot of the time he comes up with different ideas. We bounce ideas off each other. And of course they want to have a bigger line, because the bigger the line, the more they sell. It is a business—which I like to know nothing about.