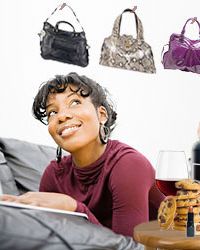 Don't lie, this has totally been you.
For as long as stores and alcohol have co-existed (which is to say, a very long time), people have shopped drunk. Factors that likely prevent it from happening more often are (1) most people drink in the evenings after stores are closed, and (2) most Americans need to drive somewhere to shop, and hopefully drunk people will avoid doing that. But now that there's this handy new technology called online shopping, all those pesky obstacles are gone, leaving a nice clear path for you to stumble between your wine glass, your credit card, and your computer.
For online retailers, this is obviously a great thing. In addition to reporting lots of hilarious anecdotes about people buying ridiculous things after a night of drinking, the Times says that some e-commerce sites are working to cater to customers who shop while they're "relaxed" in the evenings.
"Post-bar, inhibitions can be impacted, and that can cause shopping, and hopefully healthy impulse buying," said Andy Page, the president of Gilt Groupe, an online retailer that is adding more sales starting at 9 p.m. to respond to high traffic then — perhaps some of it by shoppers under the influence.

On eBay, the busiest time of day is from 6:30 to 10:30 in each time zone. Asked if drinking might be a factor, Steve Yankovich, vice president for mobile for eBay, said, "Absolutely." He added: "I mean, if you think about what most people do when they get home from work in the evening, it's decompression time. The consumer's in a good mood."
The one obvious problem with drunk shopping is, of course, that customers come to their senses the next day and then have to return whatever ridiculous thing they bought after four glasses of wine. Or — to speak from personal experience — the customer might be unexpectedly delighted by her drunken purchase, because it's something out of her ordinary shopping rut. As they say, liquor doesn't make you do anything, it just lets you.