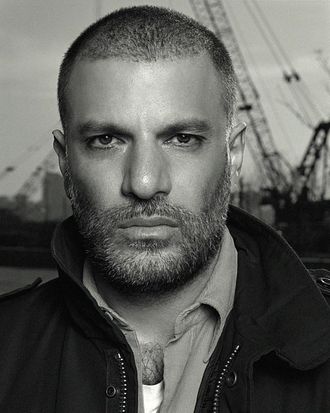 The name Louie Chaban may not be familiar, but his clients' names might be. Representing Karen Elson, Agyness Deyn, and Jamie Bochert, Chaban is one of the top agents working in the modeling business today. He has been instrumental to the successes of not only those ladies, but newer ones, like Fei Fei Sun. With his impeccable eye for new talent and his uncanny ability to help them develop lasting careers, Elite New York asked Chaban to spearhead their reinvention following the departure of a couple of its top agents this summer. Chaban left Women Management for the job this fall, and recently sat down with us to discuss his work for Elite, what it takes for a model to really make it in the business these days, and more.
How has the modeling industry changed since you started?
The speed of things. It wasn't at the speed of lightning, as it is now. There was no Twitter, no Facebook. It was much easier to make a star than it is now, [when] it's all about new, new, new — the next new girl. There was no Models.com, there was nothing like that, so when you discovered a girl, slowly but surely you could nurture her career into becoming this supermodel. Everything's more visible now. The mystery of it is all gone.
Do you feel like social media and the Internet has negatively affected your job?
In one way it's helped, and in one way it hasn't.  Things are so accessible now. There are more models than ever before. Yet the industry is so much more limited because of the recession. I don't know what the industry is going to become. Are magazines going to become obsolete? I think as far as consumerism, it's probably better, but like I said, the mystery is gone. Before a magazine comes out physically, it's already online. You never really have the pleasure of having the magazine anymore.
What challenges have you encountered being back at Elite?
Right now, I'm doing everything from hiring a staff to finding new girls. Aside from the icons like Karen Elson and Christina Kruse, it's like starting from scratch and putting my touch on absolutely everything there is to do. Everything I had done in the past eight to ten years was leading up to this.
How do you decide who to sign?
It's pretty instinctual, but I think what goes a long way now is the personality in a girl. It's really important for them to make an impression immediately. To stay in [modeling], you really have to give 300 percent. And what's happening now is that it's moving so fast. In the past, you might have this beautiful girl and if she was a bit green, well, I think the industry would take time to nurture her; to create this transformation. Now, a lot of times, if a girl can't walk or can't move in front of the camera, it's on to the next one. Models these days almost have to come ready.
So if you had choice in signing a girl with the perfect looks but no personality versus a girl with questionable looks but all the personality in the world, you would go for the latter?
Yes, because it would go a lot further. You can be the most beautiful girl in the world, but if there's nothing going on underneath, it doesn't last very long. I've seen this happen over and over again.
The industry has been embracing older models lately like Saskia de Brauw (30), Arizona Muse (23), Aymeline Valade (26), and more recently, Kati Nescher (27). It's not just teenagers anymore.
What's probably attractive about those girls is that they're probably less green than the younger ones, and like I said, I don't think photographers or the industry has time to nurture those new ones like they did before. Once in a while, there will be one that hits, but being older brings them closer to them being individuals, which is really important. They have to have something that's individual. I don't think it matters anymore whether they're young or old, it's across the board.
Have you ever thought about signing a plus-size model to your board?
I wouldn't be against it, absolutely not. I'm all for it.
What's the one thing you would like to change about the industry?
There are too many people in the industry who want to be stars. But it's all about branding now, so I can understand.
Are there any trends that you're tired of?
I'm tired of shoes and bags, in general. I know that's what sells now, but it's almost like the clothes have become secondary. If you open up a magazine to an ad, it's like, how many bags can we fit in a picture? It almost makes the clothes obsolete.
Where do you do your shopping?
I don't like shopping. When people ask me what my look is, I always say it's blue-collar: jeans and a work shirt. I very, very rarely wear anything designer; it doesn't fit me. I shop in army/navy stores. I like brands like Carhart, and I still wear Levi's.
What's something you never leave home without?
Lately, my Ganesh. I've become really superstitious so I always carry it.
Do you think that the industry will ever go back to – I don't want to say the age of the supermodels – but a place where models are memorable?
I think it kind of is already. I think photographers and clients want it easier now. They want a slam dunk. If they're going to spend a certain amount of money, and they want it to work, they choose who they know will work. They're not going to take many chances anymore.  Look at the call sheets, and you will see those girls.   
What's your philosophy in managing a model's career?
Less is more. I think that management is not just about what you do, but it's also about what you don't do. My philosophy is that everything they appear in is great and not mediocre. If a girl is not working, I always wait for the right thing. Even if it's a month, two months, or three months. I think that you have to know what's right for the girl, instead of just booking, booking, booking. Every image that comes out of the girl leaves a lasting impression.
When you think back on your career, is there any particular booking you're especially proud of?
You know, there are so many that it's hard just to [pick one]. I remember the first time I met Karen Elson, and I sent her to meet Steven [Meisel] for Italian Vogue. That was an exciting moment because that was beginning of something, I think; with that whole Maggie [Rizer], Erin [O'Connor], quirky type of girl. After that booking, I remember her chart lit up like a Christmas tree. All hell broke loose.
Where will you be steering Elite, direction-wise?
I want it to be more multifaceted. Not just modeling, but going into film more.  There are a lot of girls I represent who are also musicians and actresses. I want it to be more of a talent agency with girls who could surpass the world of modeling. It's about pointing them in that direction so that there's a life after modeling.
Who of your newer faces at Elite should we look out for?
Roberta Narciso. She's so beautiful.