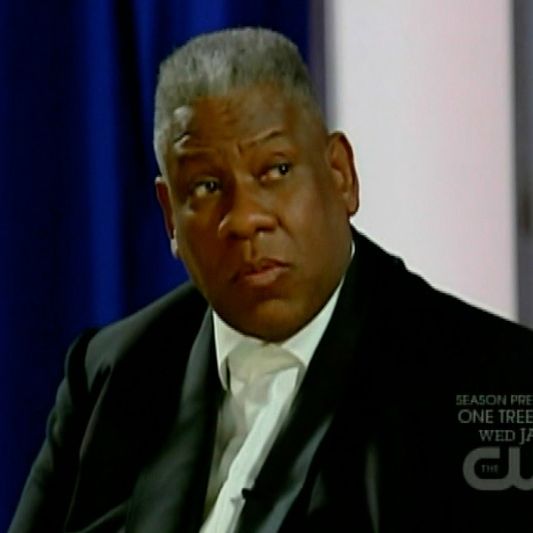 These raised eyebrows suggest ALT is not okay with Angelea's disqualification either.
This cycle's finale packed quite the sucker punch. While Top Model is always six wobbly runway steps past nonsensical, it is rarely so truly frustrating. Seriously now, what happened to Angelea?!
To say she was the star (obviously, excluding the now-departed André Leon Talley) of this cycle is no exaggeration, despite strong competition from Bianca, Laura, and her fellow finalists Allison and crazypants Lisa. And much of the cycle's long-term story lines seemed to be building Angelea up to the win, a Cinderella Tookie de la Creme–style redemption tale showcasing her rising confidence, perseverence, and all around made-for-TV-ness. Much of last night's final episode continued in the same vein, rapid-fire style. There's a lot to get through!
Continuing to play it cheap, the final three models have their CoverGirl shoot in the restaurant at a hotel–spa complex that the show's already copiously featured. (To be fair, it does have a nice view.) While Lisa flubs the commercial and Allison can't even open her eyes in the bright morning's sunlight, Angelea nails both her photo and commercial with 716 sass in glorious excess. There's a briefer-than-brief segment on their Italian Vogue test shoots (white-bikini-clad on some rocks, white-bikini-clad in the sea — one big yawn that surely can't end up as more than a one-page spread) and then it's already time for the final runway show.
This runway is, well, stupid. The kind of gratuitous stupid that you'd think, even when first presented in a producers' meeting, would have been sidelined as too much, as a veritable practical joke not only on the models but on everyone in attendance, and by proxy, everyone watching the episode too. Its theme is the transformation from girl into goddess: the models start by swimming, yes swimming, through a pool, before a brief sashay to meet some buff, bronzed male models in shiny gold briefs. The guys pose looking manly and stern, while there's a magic act–style change behind some tacky curtains, and then there's a flying act, yes flying. Finally, the actual runway walking portion of the show is to each of the finalist's "Pot Ledom" songs — yes, "Pot Ledom" songs. They also seem to have to walk back and forth for the entire duration of their track, which is particularly cruel. And all this madness is before the styling comes into the equation. There are more Drag Race–worthy gowns from Michael Cinco, who clearly ignored all the models' guidelines to make three nearly interchangeable fantasy disco-stripper-Barbie bridal looks, accessorized with rancid cheap wigs and creepy takes on Venetian masks. It's a spectacle, yes, but somehow not quite spectacular. Also, Miss Jay arrives for the show having apparently stolen an extra's costume from the wardrobe department of that film 300. (And Jay Manuel is wearing a crystal-encrusted net on his face.)
Lisa's up first with her swim–fly–walk — and it's really a dream come true that I get to write the next two sentences in the context of a "high fashion runway show": Her wig gets all tangled in her mask underwater so she can't see, and she swims into a wall. She's forced to come up for air looking like a haggard hairball come to life, and stumbles out of the pool zombie-style. She manages to recover slightly with a confident, trippy walk to the end. Allison can swim nicely enough, but high winds (yes, Tyra controls the weather now) almost blow her out of her harness and later come close to knocking her over too. Again, Angelea's the only one to nail every aspect of the ludicrous performance — even though, as you may recall, she can't swim.
Backstage post-show, Angelea seems to get a little bit down and quiet. It's not explained, but that's okay, because Top Model often pulls that sort of editing move as a dramatic cut to commercials. Except this time it's a little different — because when the show returns post-ad break we're already at a makeshift panel back in Los Angeles, with a somber Nigel explaining to the other judges that the show's production team learned information about Angelea that caused her to be disqualified. So that's that: Angelea is gone without even so much as a fade-out moment to call her own. Obviously, this is a travesty.
The CW has since confirmed the cycle's final judging session was re-shot after production wrapped, which makes sense — in all previous cycles, the finale takes place while the models and crew are still abroad, not back in the States. For this to be necessary, Angelea surely must have been crowned the All-Star winner in Crete, or Tyra could have rectified matters with a dodgy dubbed voiceover. Top Model superfan Rich Juzwiak (in an excellent tribute to Angelea) notes a video on Lisa's YouTube page, shot with Allison in October, suggests this re-shoot didn't take place until midway through this cycle's airing, which would explain the abrupt ending to Angelea's superstar edit. It's still not confirmed what she did, or disclosed, to warrant this nasty and half-assed do-over. (There are rumors she'd leaked her win online, but many cycles of Top Model have been plagued by spoilers from the girls themselves, and Angelea's consistently seemed far too invested in the show's process to jeopardize her standing in that manner — remember, she's so responsible that she has a day job at a bank.)
The judges half-heartedly deliberate between the new pair of finalists-by-default, Allison and Lisa — neither of whom look particularly invested in the charade either. (Presumably because they'd both already been eliminated in the original taping.) In the end, after airing part two of last week's Modelland-themed video editorial (which, for what it's worth, is less campy than part one), the judges announce Lisa as the champ. Despite all the buzz and controversy this has doubtlessly caused, this is a terrible ending for nearly everyone concerned in the finale — for Lisa, because of her "not a bang but a whimper" victory, and for poor Allison as a two-time runner-up. ALT's final stint on the show's panel was completely overshadowed, and even Tyra came off rather badly— as the show's host and executive producer, it was poor form on her part not to break the news of Angelea's unceremonious departure herself.
In fact, it's perhaps only Angelea that has come out of the whole mess looking "good." Because folks are now even more interested in her story, her status, and just what in the hell happened behind the scenes. Her Top Model single's chorus boldly told us, "Here I stand, ready to win, I ain't goin' nowhere." Let's hope she makes good on that promise, at least the parts of it that are still relevant.